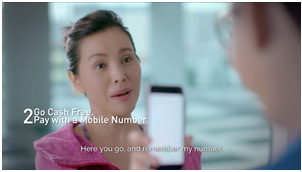 Going cashless in today's world is easy as there are many ways and opportunities to do it. But in Singapore, many still prefer making purchases and payments in cash. This is a habit POSB aimed to change.
However, habitual change doesn't happen overnight. For customers to switch from using cash to going cashless, they must first understand the benefits of doing so.
As such, DBS and Water's Edge needed to find a way to reach out to the target audience – one that is conventionally dependent on cash – and introduce them to the convenience of using digital payment modes in their everyday lives.
 This article was done in conjunction with Water's Edge. The campaign won MARKies Singapore 2018 silver award for Best Use of Content Campaign for POSB Go Cash Free.
Solution
Singaporeans love drama. With that in mind, we developed and launched a series of edutainment videos nationwide that was further supported by a BTL push.
Go cash free nationwide education campaign
For the main nationwide campaign, Water's Edge and DBS produced a series of light-hearted and engaging edutainment videos featuring Zoe Tay and Bryan Wong ­– renowned Mediacorp artists who have a strong affinity with the Singaporean masses.
Through relatable scenarios in each video, Tay shows Wong the ease of using digital payment modes such as PayLah! and Digibank, as well as topping up EZ-Link/NETS FlashPay using POSB/DBS debit and credit card, FasTrack, and such.
A lucky draw was also created to reward customers who were able to go cash free and reduce their cash withdrawals. Those who kept their cash withdrawals to two times or less per month had the opportunity to win a SG$500 grocery shopping voucher. As part of POSB's 140th anniversary, we rewarded 1,400 customers throughout the campaign.
POSB's go cash free exclusive promotion
An analysis was conducted to pre-identify customers who showed the greatest reliance on cash. It was important for us  the campaign reached out beyond the masses to this specific group of customers whose behaviour POSB wished to change the most.
A three-month BTL campaign was designed exclusively for this group of customers and ran parallel to other ongoing efforts. Customers, who could keep their monthly cash withdrawals to two times or less every month, would earn a S$10 cash gift for the first month and a 10% rebate on all contactless spend at the end of three months. The two-part reward mechanism helped encourage behavioural changes, forming a habit that would last beyond the campaign period.
Objective
Water's Edge and POSB sought to reshape the existing behaviour of customers by introducing them to the benefits of using the following cashless payment modes:
(1) Tap to pay with POSB/DBS debit and credit cards.
(2) Pay anyone and receive money with DBS PayLah!
(3) Pay your bills anytime, anywhere with POSB/DBS iBanking or digibank app.
(4) Top-up your EZ-Link or NETS FlashPay card with POSB/DBS debit and credit cards.
(5) Skip the queue and use DBS FasTrack to place food orders.
Execution
An integrated 360-degree media campaign comprising traditional media, out-of-home, as well as online and social media was developed. A six-part video series formed the core of the education campaign and was launched progressively on POSB social media channels such as Facebook, Instagram, YouTube, with a new video released each month. We created teaser ads before the release of each episode to pique viewers' interest.
The videos were also broadcasted on free-to-air channels and Toggle, as well as large screens of high-traffic malls and at POSB branches where the content is highly relevant for walk-in customers. To extend our reach, the videos were also hosted on Mediacorp's social media channels.
Regular open talks were hosted on radio stations Class 95 and Love 972 during morning drive-time over 6 months to educate customers in detail.
During the monthly events where we awarded winners with a grocery spree, mobile studios from Mediacorp radio stations broadcasted live roving reports that were aired on radio to create increased awareness and interest among listeners.
As a fitting end to the campaign, we produced and boosted several videos featuring our campaign winners to highlight how they have benefitted from going cash free.
 6-part video series:
(Gallery available on web)
Videos on grocery spree winners
(Gallery available on web)
Results
Qualitative Results: There was a high awareness of the campaign, with three quarters of respondents recalling the campaign and correctly attributing it to POSB from the online survey we conducted. At least 80% of respondents said they were likely to go cash less frequently and over 56% indicated that they would use the contactless payment modes after viewing the ads.
Quantitative Results: Preliminary findings showed that close to 50% of the Bank's customer base – qualified for the monthly draw. A further 280,000 customers who exhibited high cash withdrawal frequencies were able to reduce cash withdrawals to 2 times or less per month and sustained this frequency monthly for the first quarter of the year, demonstrating actual behavioural change.
Statistically speaking, the bank saw a 1.8% YoY decline (1Q2016 vs. 1Q2017) in portfolio cash withdrawal transactions during the first 3 months of the campaign. This was also translated into a 5.5% YoY reduction in the average number of cash withdrawal transactions per customer, and 1.9% reduction in the average cash withdrawal amount per customer.
The videos were also widely watched and received, garnering a total of 2.263 million views on the broadcasted free-to-air channels, as well as 2.255 million views and 3,000 shares on online and social media channels.