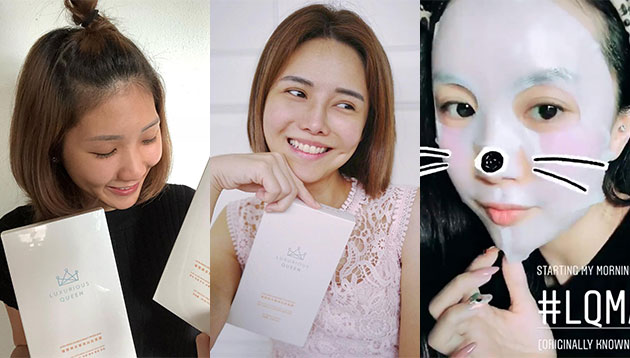 Singapore's content creation scene has seen an increase in brand-influencer engagements, which has given rise to conversations around transparency and authenticity, along with client-influencer relationships. Another trending topic right now in the online world is around influencers are becoming beauty product distributors.
The topic came to prominence when influencers such as Ang Qiu Ting (bongqiuqiu), Donna Goh (ponyyzz) and Sheena Sim (ohroses) admitted to taking on the role of distributor for skin care products under Luxurious Queen Singapore, which owns products such as LQmask and SQmask. While Ang has created a separate page from her main Instagram page to market the products, Goh has also disclosed on her profile her commercial relationships to Luxurious Queen Singapore.
This saw the queen bee of influencers Wendy Cheng, known as Xiaxue, speaking up on the matter. Giving her view in a series of Instagram Stories posts, she discussed the importance of disclosure and debated on the whether or not the beauty product sales structures were seen to resemble multi-level marketing (MLM). MLM is a strategy which sees companies encouraging existing distributors to recruits new distributors by paying existing distributors a cut of the recruits' sales. MLM activities in Singapore are currently regulated by the Multi-level Marketing and Pyramid Selling (Prohibition) Act administered by the Ministry of Trade and Industry. Marketing has reached out to the government body for a statement.
"I've repeated like a broken record over and over again that influencers should be open and transparent about ads, until I'm sick of repeating it. On your own head be it, once your followers find out you are taking them for schmucks you won't have their trust left, and without their trust, the values of your ads is zero," Cheng said.
"I'm not trying to say I'm better morally. In fact, I understand how these influencers probably think there is nothing wrong with just posting an honest opinion about a product they love. It's just that I personally think its wiser to value the longevity of your career over short term gains," Cheng added. Cheng later highlighted the Singapore Code of Advertising Practice (SCAP) to support her arguments on the importance of influencer disclosure of the products they are marketing on their social media platforms. View the exchanges made on the matter so far here:
(Gallery available on web)
In a conversation with Marketing, Ang Peng Hwa, chairman of ASAS, said that ASAS regulates the content of advertisements, and not the business and product distribution modes, through the SCAP. He added that the premise of SCAP is that all advertisements must be legal, decent, honest and truthful. They also need to comply with the Guidelines on Interactive Marketing Communication & Social Media under SCAP.
"According to the guidelines, if an influencer creates social media content about a product that they are selling, they must declare this clearly and prominently in the content as it is considered a commercial relationship," Ang said. He added any claims about the effects of beauty products must be capable of substantiation by the proper scientific studies. If consumers encounter advertisements that carry such unsubstantiated claims, they may give their feedback via the ASAS website or e-mail with the necessary information and clear copies of the advertisements, he added.
A matter of perception versus truth?
Speaking to Marketing, Ryan Lim, founding partner and principal consultant of QED Consulting, said the uproar arising from the incident was likely a matter of perception versus truth. This is because those getting angry believe there is an ethical boundary when it comes to the influencer-follower dynamic. He added:
Consumers who are following these influencers believe that the latter have their complete interests at heart when it comes to the products they promote.
As such, despite the influencers declaring up front that they are main distributors for the products, followers and consumers may still feel that a true influencer pushes and promotes a product in an unbiased manner. As such, having a stake in the sales of the product they are pushing might not sit as well.
"Having influencers becoming distributors themselves might be a new phenomenon in Singapore, as an influencer's usual main job is to sell ideas, products and their opinions," Lim said. He added that in markets like China, influencers are known to sell ICO products, going beyond endorsement. Some have even entered the cryptocurrency market. Lim added that the debate could have been sparked because of a lack of clarity surreounding the matter.
For Edwin Yeo, general manager, SPRG Singapore, regardless whether an influencer plays the role of brand owner, distributor or paid endorser of a product, it is important that such relationships are made clear prominently on their posts. The key to this, he added, is authenticity.
"This, of course, makes it harder to sell the products as readers would have to weigh what the influencer say against the fact that they have a financial motivation to say what they might about the products," Yeo explained.
However, this is a new reality, where media owners and influencers have to find ways to make branded content genuine and believable. When asked if the term product "distributor" had a part to play in the difference in perception, Yeo disagreed, adding:
The brand of the influencer also always plays a part. If the influencer has a perception of honesty and integrity, then the relationship to the product is irrelevant.