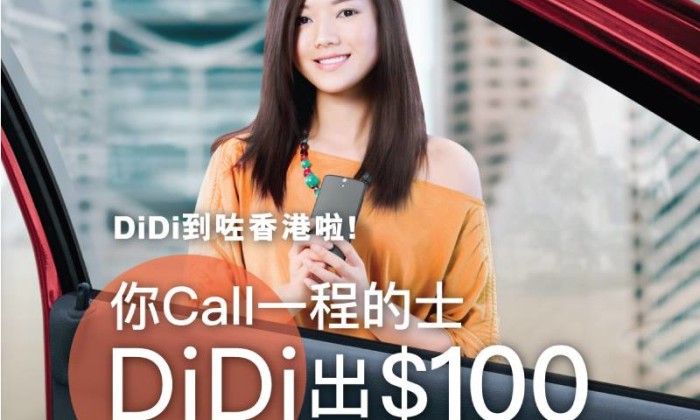 If you're not living under a rock, you'll notice China's ride-hailing giant DiDi has been aggressively promoting its services in Hong Kong over the previous week.
DiDi has rolled out a new campaign called "You hail a taxi, DiDi pays $100", providing discounts to local drivers and passengers on three consecutive Fridays. On 20 April, 27 April and 4 May, passengers who pay on their mobile phones using an international credit card can enjoy a HK$100 taxi fare discount per ride.
Passengers can take up to two discounted rides per day (total HK$200) and a total of HK$600 discount over the three Fridays. The promotional period also includes a referral program through which existing DiDi users and their friends can receive a joint HK$100 reward when referrals take their first ride with DiDi.
"Our team is working closely with the local taxi community to encourage taxi drivers to use the in-app payment service. Based on our local operations experience, our strong technological capabilities and our products features, we invite our users in Hong Kong to explore the convenience and comfort of our platform," said Felix Cheng, DiDi's city manager of Hong Kong.
On the first day of the promotion, DiDi said the number of downloads from new users has increased by approximately 23% compared to the previous day, and the online payment rate has exceeded 90%.
Meanwhile, DiDi announced today that it has launched in-app payment options in Hong Kong to provide local users with safer and more convenient cashless travel experiences.
The campaign launched last week to announce its in-app payment option in Hong Kong with ATL support in digital, OOH, newspaper and radio.
To promote cashless payment, DiDi cooperates with Visa to launch the in-app payment service. Visa will sponsor the "You hail a taxi, DiDi pays $100" initiative on 4 May and offer promotions together with DiDi.
Since the rebrand in February 2018, users have migrated from Kuaidi Taxi to DiDi. Currently, DiDi is working with more than 20,000 taxi drivers, which accounts for more than half of all taxi drivers in Hong Kong, and serves over 600,000 registered users.
The company said it will continue to use its big data-enabled algorithms to improve transportation efficiency and enhance user experience.
DiDi has also formed a partnership with the Hong Kong University of Science and Technology and set up a joint laboratory to carry out research focused on machine learning and smart transportation to support Hong Kong's smart city journey.
Credits
Media: Mindshare
Creative: TBWA