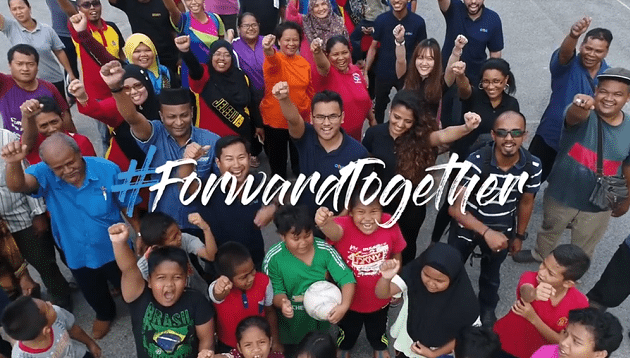 The Organisation for National Empowerment (ONE) has launched a campaign titled #ForwardTogether, to create a positive attitude towards voting, by encouraging youths to assess a party based on its ability to deliver and empower Malaysia's future.
The in-house campaign will run until May 2018 on social media, online and print platforms, as well as TV. In a statement to A+M, ONE's secretary-general Azeem Abu Bakar said that #ForwardTogether aims to counter the #UndiRosak movement on social media, which is encouraging Malaysians to spoil their votes due to dissatisfaction towards both sides of the political divide.
According to him, #ForwardTogether denounces this call, offering an alternative way to asses political parties based on a set of criteria, namely delivery, stability, progressiveness, governance and robust plan to empower the future of Malaysians. The campaign aims to rally the youths to look at policies, track record in determining the party to vote for.
He added that Malaysia has never witnessed a concerted effort to spoil votes, and as such, #ForwardTogether aims to inject positivity to neutralise such attitude that is detrimental to the country's democratic process.
"We, the youths need to empower our future, by challenging both sides of the political divide offer a better deal, in return for our votes. Do not spoil our votes, as we will lose our chance to influence them," he added.
ONE was established on July 2014 by Malaysian youths with a strong desire to address the challenge of inspiring unity among Malaysians from the bottom up, and assist in the realisation of Vision 2020. Vision 2020 aims to form a collaborative society and vibrant economy.
(Read also: Bosch AA banks on election fever for new video featuring Kak Girl)