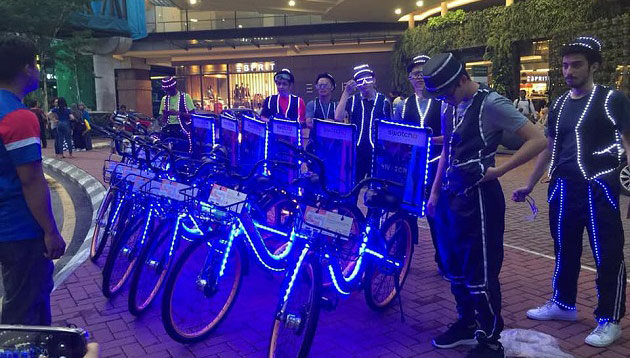 oBike has partnered with transit advertising company Rodeo to launch bike-sharing advertisements in Malaysia. As part of the partnership, both companies worked with Swiss watchmaker Swatch to launch its new product line VIBES.
The campaign, which ran for a month and was conceptualised in-house by Rodeo, featured a neon-themed out-of-home (OOH) activation using bicycles. In a statement to A+M, Rodeo CEO Valens Subramaniam said the concept of having a neon-themed campaign arose as the new Swatch Vibe watches glow in the dark at night. He also said that oBike partnered with Rodeo because of the company's OOH knowledge, as well as oBike's vision of expanding the platform globally.
A+M has reached out to oBike for comment.
Rodeo recently partnered with Barisan Nasional (BN) for a nationwide campaign, which involves drivers getting paid RM300 by BN for pasting the stickers featuring the party's logo on their cars. Subramaniam said the business objective of the collaboration was to increase brand awareness of Rodeo, and that it remains neutral when it comes to politics. Last year, it also partnered with AirAsia to launch an OOH campaign for its travel insurance Tune Protect.