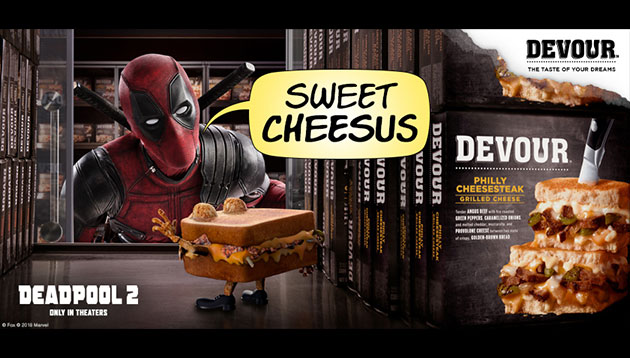 Kraft Heinz' sandwich brand DEVOUR teamed up with Deadpool for a new digital spot to introduce a new line of sandwiches with melted cheeses, tender meats and toasted golden-brown bread. (Yum!)
The new spot takes consumers inside Deadpool's dream, where he rides a unicorn through a supermarket in search of a sandwich to satisfy his superhero cravings. Along the way, he encounters various characters from a casino of frozen food characters to a sassy little girl (who asks if he is "selling out"), before escaping with DEVOUR's new sandwiches into a giant dream-like microwave.
https://youtu.be/7m_MJwPn_oE
"I always told myself I'd never sell out," Deadpool said. "But daddy needs to bring home the bacon. In more ways than one."
Wildness, Beef & Sage and Baked studios were involved in the campaign, which will run on out-of-home billboards, digital and social media platforms, as well as point of sale in 9,000 stores across the US. The campaign also includes custom DEVOUR packaging featuring Deadpool.
"We believe you shouldn't have to compromise taste for convenience, so we designed our new sandwiches to taste like food you would find at a restaurant. You would never believe that our new sandwiches come from a microwave," Katy Marshall, marketing and sales lead for Springboard, said. Springboard is a platform launched by The Kraft Heinz Company in March to nurture, scale and accelerate growth of disruptive US brands in the F&B space.
Campaign credits
Agency: Wildness
Executive creative director: Jamie Moore
Wildness head of production: Phillip Van Wagoner
Wildness VP creative: Jared Seltzer
Directors: Beef & Sage
Producer: Piazzie
Producer: Katie Sharp
VFX Studio: Baked Studios