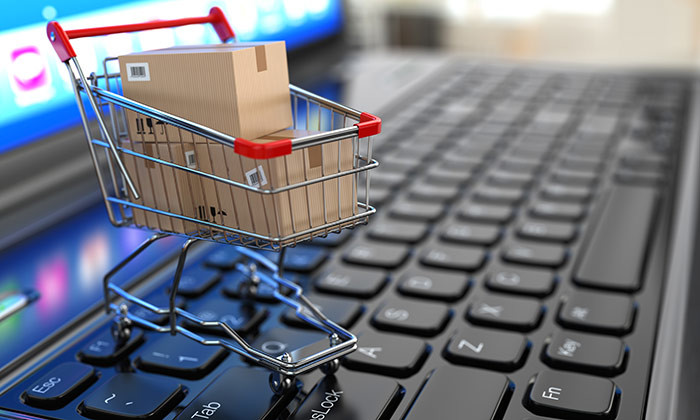 In China, e-commerce has delivered a devastating blow to traditional brick-and-mortar retailers, but brands still remain important in this new era, and a conventional approach is not going to cut it, according to Ogilvy China's new whitepaper on e-commerce.
Ogilvy China released a new whitepaper analysing how brands can successfully navigate the Chinese e-commerce environment. Titled Why Brands Matter on Chinese Ecommerce, the whitepaper draws upon data from China's e-commerce platforms to provide insights, tools and strategies for brands to engage online consumers.
According to the whitepaper, if a consumer were to spend just one minute in each online store, it would take them 80 years to view all 10 million stores currently available on Chinese e-commerce platforms.
In this crowded marketplace, where millions of stores are fighting for consumer attention, strong brand awareness is necessary for e-commerce consumers to find it in the first place. Brand power is also the source of differentiation. Unlike shopping in a conventional offline supermarket, where consumers' choices are constrained by limited shelf space, the unlimited shelf space of e-commerce makes differentiation even more important. "Without it, how could a consumer possibly choose a shampoo brand from the 2000 choices available?"
Brand power equals sustainability on e-commerce
Price discounting and free shipping have been the main tactics used thus far to drive volume on e-commerce in China, resulting in top line growth without bottom line increases. Brand love borne out of the direct relationship between a brand and its consumer is the only way to maintain a price premium.
Ogilvy China analysed hundreds of brands on Taobao/Tmall, and found out an association between brand power and greater search exposure; brand power directly correlated to search volume across all 10 categories.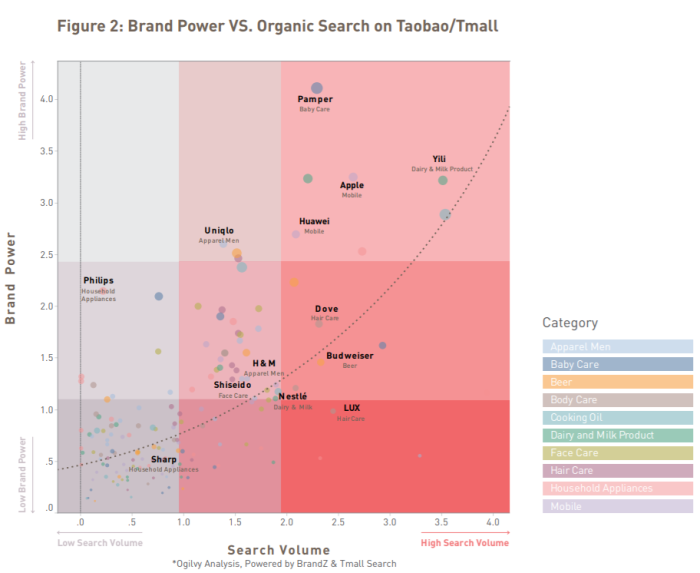 It also performed a similar exercise for price variance. The price variance is defined as the range of price movement on ecommerce over a 12 month period. The higher the price variance, the more likely it is that the brand is relying heavily on price promotions. In most categories, the stronger the brand power, the less likely the brand is to rely on price promotion to drive volume.
Some exceptions include hair care and television, both of which have seen brands drive down prices in order to gain market share. Strong brand equity can translate awareness into organic traffic, and preference into price premium. In the long run, the stores that survive among the 10 million, and the products that stand out among the billion, will be those whose robust branding enables them to maintain that price premium.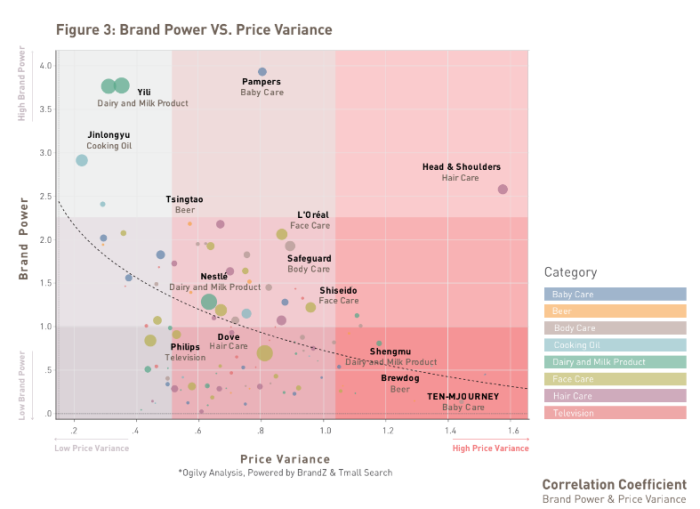 Know your customers, but also know the algorithm
The marketplace algorithm, which is responsible for matching consumer needs to brand content, has to improve continuously in order to extract more value from each visit. Much like Google's search algorithm, marketplace algorithms are a closely guarded secret, although some basic operating principles can be inferred from public information.
For instance, if a consumer searches for 'basketball shoes', all products with either 'basketball' or 'shoes' in their name will be matched. Of the products that pass this validity test, SKU and store scores are applied to determine rankings.The primary components of an SKU score include sales volume, purchase conversion and consumer reviews.
Marketplace response to inexplicit inquiry is less transparent, but is based on consumer behavior tags and A/B testing. Every time you click on something in the marketplace, you reveal something about your preferences.
The accumulation of clicks turns into a tag that can be used to determine what you see in the marketplace. If you have been searching for or buying infant products in the past 3 months, the marketplace is very likely to identify you as a 'young parent'. Therefore, when you open the Taobao application, you are more likely to be shown a diaper than a beer.
However, sometimes a young parent might need a beer more than diapers, so marketplaces will leverage A/B testing to validate some hypotheses. In this case, marketplaces will show the young parent beer instead of diapers on Friday evening to test the receptivity.
This isn' t a new practice in the era of social media marketing; search engines such as Google, Baidu and social media platforms like Facebook have been using a similar approach to maximise ad revenue for years.
"The fast changing e-commerce environment tends to make brands more focused on the short-term sales growth rather than brand building for the long term. With brands spending more and more on e-commerce platforms and generating a large percentage of total sales through e-commerce, it is essential for brands to be able to navigate this environment. Brands in China are increasingly built bottom up, and social and commerce driven campaigns need to ladder up," said Chris Reitermann, CEO of Ogilvy China and co-CEO of Ogilvy Asia Pacific.
At the end of the paper, it said brands and e-commerce need each other. In this mutually beneficial relationship, e-commerce offers brands options to simplify choice, provide shortcuts and build value amid an infinite sea of possibilities, while branded marketing in e-commerce creates visibility, trust and engagement with the consumer.
Making brands matter in this new era, where data and technology disrupt customer relationship norms, will require a deep understanding of every step of the customer journey and of the marketplace algorithms which determine brand exposure.
The brands that succeed in this new landscape will be those that look beyond mainstream e-commerce to become pioneers in the newly emerging marketplaces that reflect changing consumer needs.