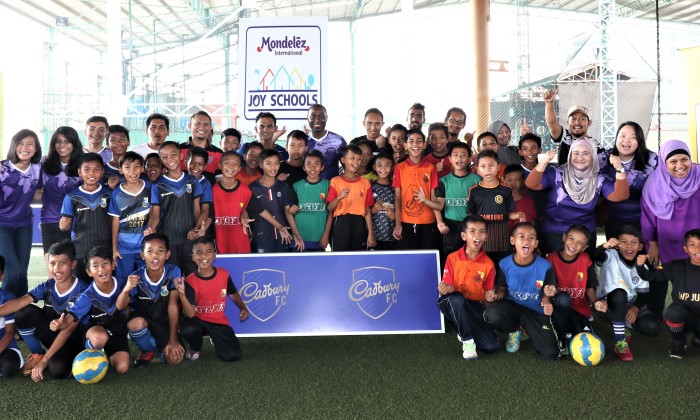 Mondel?z International (Malaysia), the maker Cadbury Dairy Milk, hosted a once-in-a-lifetime coaching session with Premier League legend Andrew Cole for aspiring football players from selected schools in the Klang Valley. Cole was in Malaysia as part of the launch of Cadbury F.C, a tie up between Cadbury and the Premier League. The football clinic was an extension of this partnership, which created a platform for Mondelez Malaysia to share the joy with millions of young and old football fans nationwide.
Anchored on the company's consistent vision of Creating Moments of Joy, the football clinic is part of Mondelez Malaysia's mission to encourage the adoption of active lifestyles among children.
"Football is much more than just a game, it is a learning avenue as well. In line with our passion to empower children to take positive steps towards their overall well-being, Mondelez Malaysia is putting into practice one of Joy Schools key pillars, Active Play," Swadheen Sharma, managing director of Mondelez Malaysia said.
Participants comprised of students from Sekolah Kebangsaan Padang Jawa,  Sekolah Kebangsaan HICOM and Sekolah Kebangsaan Puchong, who are part of the company's flagship social-responsibility programme, Joy Schools. Mondelez Malaysia said it aims to promote physical engagement that helps to develop their social and cognitive skills. This comes at a crucial time as studies have revealed that a whopping 70% of Malaysian children currently live a sedentary lifestyle.
"By taking students out on the field with one of football's most illustrious personalities, we are providing them with greater opportunities to reap the benefits from playing as a team. Apart from learning the value of camaraderie and perseverance, the children will also have a joyous experience to remember and be inspired to continuously chase their dreams," Swadheen continued.
"It is a wonderful opportunity to share my knowledge and expertise with these aspiring football players. Football has taught me many life lessons and skills that are useful even today, and it is a fun way of keeping active. Hopefully, these wonderful young players will continue to approach every aspect of their lives with the same high level of energy and enthusiasm they have displayed on the field today," Cole added.
Since its inception in Southeast Asia in 2011 Joy Schools has benefited approximately 11,500 students in 25 schools in Philippines, Thailand, Indonesia, Vietnam and Malaysia. Joy Schools' activities are conducted across three core pillars of promoting nutrition education, providing access to fresh food and advocating active play. The program is supported in Malaysia by the Ministry of Education.