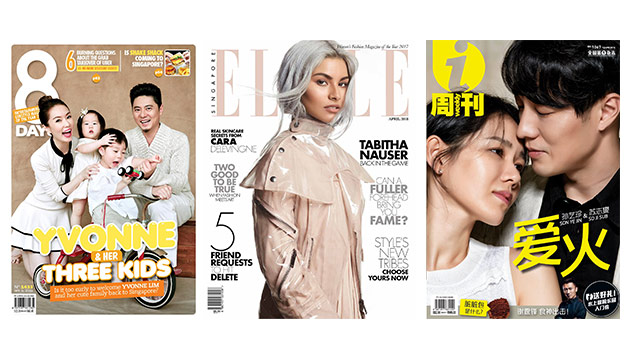 Mediacorp has discontinued the print versions of 8 DAYS, i-Weekly and ELLE, which will end its print from September onwards. While 8 DAYS and i-Weekly go fully digital, Mediacorp will be discontinuing its print licence with ELLE, the last edition being October 2018.
At the same time, the company will close SmartParents, its website providing parenting advice and how-to's. Audiences of these two titles will continue to be served by Mediacorp's range of products and platforms.
A number of roles will be affected following the changes, which will see Mediacorp working to retain and redeploy affected employees to other jobs within the company's various growth areas in the next six months, the company addressed in a statement.
"Mediacorp thanks all employees supporting 8 DAYS, i-Weekly, ELLE Singapore and SmartParents for their dedication and past and continuing contributions to these properties. We also thank our partners for their support through the years," the statement added.
Marketing has reached out to Mediacorp for additional details.
Mediacorp said that 8 DAYS and i-Weekly, which coves the latest trends in entertainment, celebrities and lifestyle, will move to a fully-digital future. Both publications moving forward will focus on growing their digital properties.
It added that the decisions are in line with Mediacorp's efforts to refresh the iconic 8 DAYS and i-Weekly brands as it focuses on building its own lifestyle and entertainment content. Through these brands, Mediacorp will continue to offer advertisers targeted, innovative solutions.
"The moves we are announcing today enable us to focus our editorial capabilities on the digital delivery of content. We will continue to innovate, create and present lifestyle and entertainment news in fun and relevant ways for readers and clients," Debra Soon, chief customer officer, Mediacorp said.
Last year, the company discontinued the print editions of its Style brand of magazines. This saw the migration of its Style and Style: Men content to its digital portal styleXstyle. It also stopped the print of TODAY, a move affecting 40 employees as it looks ahead to a digital-first future.