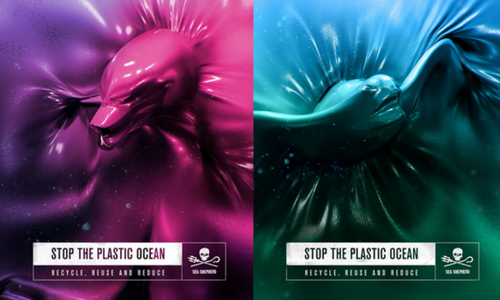 According to a non-profit marine conservation organisation Sea Shepherd, plastic pollution of the ocean reaches record high every single year, killing more than 1 million ocean animals each year.
Alex Cornelissen, global CEO of Sea Shepherd, said that plastics have been posing a serious threat to ocean wildlife and wiping out sea animals like an "invasive species". If we do not make a change, the oceans will soon contain more plastic by sheer weight than all animal life combined.
To bring this matter to the public's attention, Sea Shepherd launches the "Plastic Ocean" campaign with FF New York. The campaign consists of 3 visuals and a video, which may be colourful and eye-catching at first glance but also depict how marine lives are trapped in plastic waste.
The conservation group hopes the graphic illustration will raise public awareness of this issue, of which now, according to the group, only a small fraction of people is conscious. The campaign is launched on social media and targeted especially at the millennials and Gen Z.
"We can turn the tides, we can stop this invasion. What we have caused, we now have to fix. Stop the production and use of single-use plastics. Together we can clean the oceans and together we can make sure that what we take out, stays out," said Cornelissen.
Credits: 
Title of ad: Plastic Ocean
Client: Sea Shepherd
Agency: FF New York
Chief Creative Officers: Fred & Farid
Creative Director: Laurent Leccia
Associate Creative Director: Michael Hess
Business Lead: Amanda Hellman
Brand Supervisor: Heather Stimmler Amanda Hellman
Executive Producer: Amanda Van Caneghem
Director of Business Affairs: Lisa Rosario
Animation by Alkemy X
Director: Geoff Bailey
Senior Producer: Jason Sonner
CG Supervisor: Dave Zeevalk
3D Lead: Brendan Fitzgerald
FX: Brendan Fitzgerald
3D Artists: Dave Zeevalk, Adam Stockholm, Pete Hamilton
Compositors: Matthew Robinson, Alejandro Monzon
VFX editor: Lucas Andrei
Music by Tuesday Collective
Music Producers: Vida Ventura, Hallie Bonnar
Vocal Talent: Scarlet Lastrapes
CD/Composer: Theo