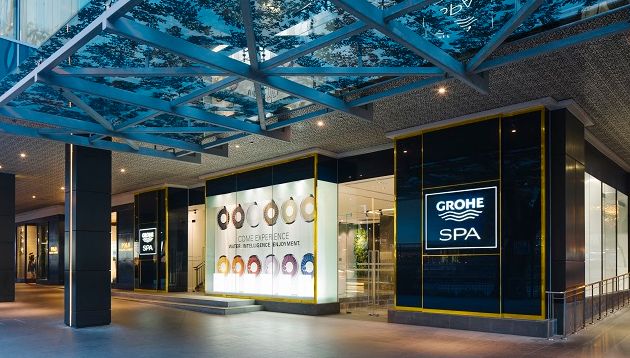 GROHE, one of the brands under Japan-based LIXIL Corporation, has launched an Asia flagship store - GROHE SPA - at Singapore's Shaw Centre.
GROHE SPA aims to raise the bar in delighting and inspiring designers and consumers with a showcase of the company's innovative water technologies. Enhancing the brick-and-mortar experience, the store is equipped with smart technologies that help consumers and designers visualise and plan their selections.
Tapping on virtual reality (VR) technology, GROHE SPA has a built-in shower configurator where consumers can customise their preferred shower system and experience how it comes together in function and design before making a purchase. Putting on a VR headset, consumers see their selections brought to life via projections to experience their shortlisted choices, all without actually getting wet.
In a statement to Marketing, GROHE's spokesperson, the company chose Singapore because it is a growing market where homeowners and consumers are always on the lookout for high quality innovative products. Singapore is also a regional design hub, home to prominent designers and architects who operate across the region, who are aware and keen to experience the latest innovations available, the spokesperson said.
Shaw Centre was selected as the location for the flagship store because LIXIL wanted it to be accessible to customers. "We believe that experiencing a product is key to really understand that product; helping consumers in their purchase consideration," the spokesperson said.
GROHE declined to share its marketing plans for the Asia flagship store in Singapore. When asked who will be leading GROHE SPA, the spokesperson said the company has a full team of professionals supporting all aspect of its marketing efforts in Singapore, including our GROHE SPA.
The store also has Radio Frequency Identification technology to enable immediate access via a mobile device. Visitors can learn more about each product displayed and get detailed specifications as they walk through the store, tagging products and emailing the desired information to themselves immediately.
According to LIXIL Water Technology Asia CEO, Bijoy Mohan, GROHE pursues the brand values of technology, quality, design and sustainability, seeking to develop new innovations that bring value to its consumers.
"In the same vein, we strive to up the ante on the retail front, making this showroom a stage where GROHE's advancements in water technology are brought to life. More importantly, we aim to inspire and change the way consumers interact with our products," Mohan said.
(Gallery available on web)