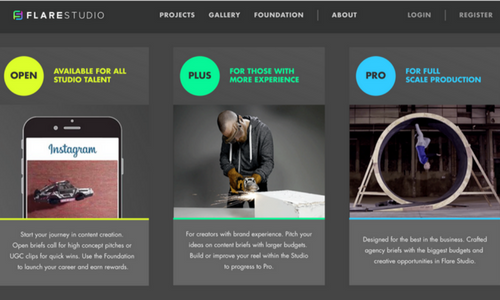 American Eagle Outfitters (AEO) Hong Kong is partnering with TBWA's Digital Arts Network to utilise its content creator platform Flare Studio to explore a new operating model for creating content. The Digital Arts Network will establish a dedicated 'content lab' to utilise Omnicom's Flare Studio, offered in the Asia by TBWA\Asia Pacific.
The platform enables professional film-makers from around the world to pitch for brand briefs, "allowing AEO to decentralise its marketing efforts whilst maintaining a high level of creativity, quality and speed," the press release said. In practice, the platform makes a global pool of some 10,000 film-makers from 100 countries, which are divided into three tiers, available to brands. Content creators can rise through each tier as they become more widely recognised in the industry by creating more and better content, which would influence the prices the artists can fetch.
Digital Arts Network's Content Lab will ensure that the briefs and executions are aligned with brand guidelines, strategy, and objectives, as AEO will launch new brand direction and platform worldwide later this year.

"As the American Eagle brand evolves to bring surprises and innovations to our customers, we look forward to marrying this with a fresh new content production model helping the brand platform come to life," said Samson Li, director marketing at American Eagle Outfitters Hong Kong.
"In markets like Hong Kong where the KOLs continue to play a big part in brand communications, this innovative content production model will allow brands to capitalise on a wide range of content creators who truly understand the culture and trends of their city," said Jan Cho, managing director of TBWA\Hong Kong. "We're excited to explore the possibilities of the Flare Studio platform with American Eagle."