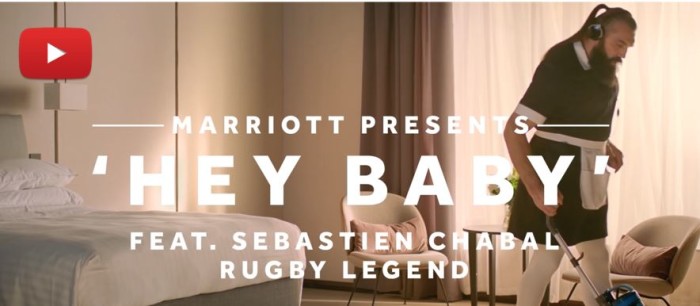 To celebrate the upcoming Rugby Sevens, Ogilvy & Mather (Ogilvy) has invited rugby legend Sébastian Chabal to make cameo appearances in four short films on social media as part of Marriot's campaign 'Stay Brilliant'.
In the pilot video 'Bonjour', Chabal made a comedic entrance to one of the Marriott Hotel guestrooms as a new yet comical wake-up program that may get a little too personal with the Sevens fans. In the next two videos he shares tips to fans in a humorous way on how to stay brilliant throughout the Sevens.
The highlight of the campaign is when Chabal renders his very own version of DJ ötzi's classic hit 'Hey Baby' while wearing several costumes like the black tight suit from Beyoncé's Single Ladies music video and the armor of a Spartan warrior, just to name a few.
(Gallery available on web)
Reed Collins, chief creative officer of Ogilvy Hong Kong explains the decision of choosing Chabal is because of the retried player's continued passion for the game. "During his playing years, his ability to maneuver creatively around the pitch and inspire fans is perfectly aligned with the Marriott Hotels ethos of innovation, creativity, dynamism, and inventiveness," said Collins.
With the video campaign, Mike Fulkerson, vice president of brand and marketing Asia Pacific at Marriott International is looking to showcase the brand promises in an uplifting and humorous way. "The flagship of the Marriott International portfolio, Marriott Hotels, is a brand known for innovation," said Fulkerson. "When guests check into a Marriott Hotel, they'll be invited to join our best-in-class Marriott Rewards loyalty program and have access to exclusive experiences."
In a statement, Ogilvy expressed that the campaign is an enjoyable one and the brand is very pleased with the outcome.
Cathay Pacific/HSBC Sevens and Hong Kong Sevens Festival are set to kick off on today. Marriott International is once again the official sponsor of the tournament.
Check out the travel tips and other videos on Marriot International APAC's YouTube page here.