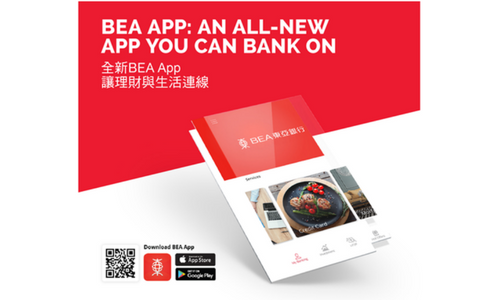 The Bank of East Asia (BEA) has appointed cccdi ltd. as its digital agency as well as strategic partner for the BEA App and its revamp. A new trendy design is created to enhance the user interface and user experience, aimed to provide an entirely new level of mobile banking services.
The agency came up a new design direction with digital insights, interface & user experiences that follow the latest global trends, functionalities to stand out the signature features and strengthen BEA fintech's strategic approaches.
The rapid development of emerging technologies is providing banking customers with incomparable speed, access, and convenience. Expectations within mobile banking apps become higher than ever nowadays.
"We believe good design is the first step towards good business results. Through our shared digital insights as well as expertise of mobile app design, cccdi ltd. is certain that the relationship will prove fruitful. We're pleased to build a long-term partnership with BEA, Hong Kong's largest independent local bank and get involved in fintech, mobile banking app planning, design, and development.", said Tomy C.C.Choi, Founder & Principal Consultant of cccdi ltd..
New Design, Enhanced UX
Customers with BEA's premium SupremeGold account have a choice of colour scheme for the new interface: classic red or prestige black/gold.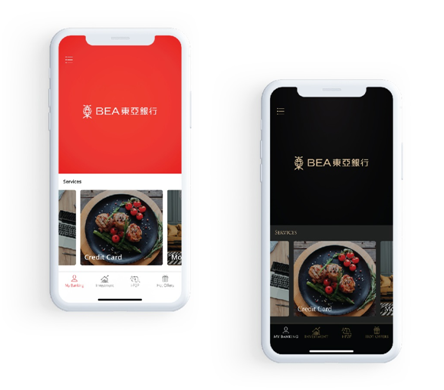 Ground-breaking Lifestyle Platform
The i­Planner is the first virtual hub of its kind in Hong Kong. Seamlessly integrating customers' day­-to­-day living with various kinds of financial transactions, the i­Planner has the capacity to provide customers with relevant recommendations and exclusive offers.
The i­Planner's first theme is an advanced travel feature offering an entirely new level of control for planning holidays abroad. The feature operates as a single nexus point through which customers can complete all their travel-related arrangements, such as booking limousines or travel insurance, activating overseas ATM cash withdrawal, increasing credit limit, setting bill payment reminders, etc
By entering a few quick details, customers can set a schedule and a budget, itemising their trip, and can view all expenses in a straightforward pie chart.
When travelling with friends, customers can use a "split costs" function in i-P2P to divide expenses exactly. The app even enables customers to send a payment request to fellow travellers directly or make an instant transfer if they want to settle a shortfall.
iPlanner users can simply sign in with their Facebook account, and will soon be able to take advantage of a generous referral programme.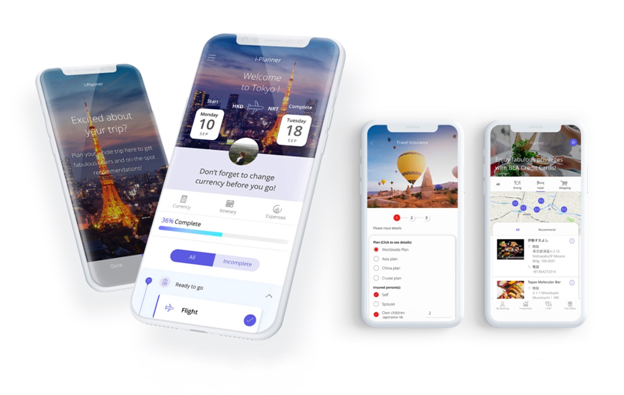 Upgraded Features
The enhanced i­Spend feature gives credit cardholders an overview of their finances and allows them to make direct payments. It is also linked to the BEA Credit Card's Bonus Gallery.
Besides, customers can now use the BEA App to make foreign currency exchange. Customers can pick up the currency at any branch afterwards.
The app's latest rejuvenation is a critical part of the bank's overarching digital strategy to provide an exceptional customer experience at every touch­point.
These functionalities and features give new depth to the BEA App's wide array of existing and recently-added services.
The agency will keep consulting and enhance the BEA app to complete a range of features and all-new services, giving customers a banking freedom never before experienced.
Source: cccdi ltd.