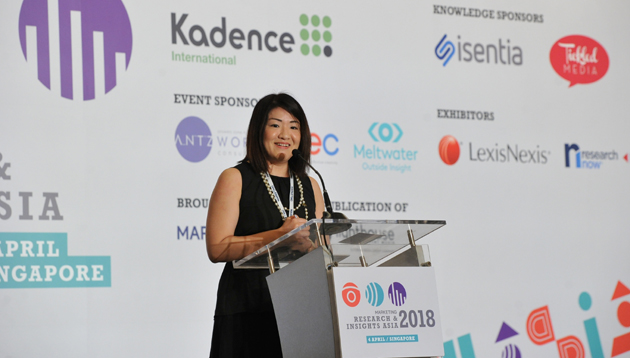 When it comes to research and insights, a constant challenge marketers face is being able to translate the data into dollars and cents. Nonetheless, this is something marketers need to overcome in order to garner management buy-in, said Diane Yap (pictured), head of marketing at AXA at a recent Research & Insights Asia conference organised by Marketing.
Yap added that the first step to doing so would be to identify data sources which are credible, accessible, and aligns business performance. Doing so would drive accountability around using data, insights and intelligence, which is the formula to winning C-suite support, Yap explained.
"You don't have to throw a huge amount of investment in at the start. Instead, start with the data you already have, it can be a report on campaign performance, product sales, customer acquisition data and customer feedback," Yap said.
The next step is planning for success, she said. This includes mulling the tweaks that can be made based what a marketer gathers from the data such as making small changes to help increase customer satisfaction. Another approach is implementing "quick wins".
"Keeping the concept of cost savings resulting in high ROI, think about the other areas where you can gather insights which do not incur high costs," Yap added.
Check out some shots from the event:
(Gallery available on web)
Driving a data-driven culture in the workplace
Cultivating an insights and data-driven mindset in the organisation is also crucial to better incorporating data and insights into your strategy. For Yap, there is a great opportunity for the marketing department to lead the change in the organisation; this is because marketers carry the voice of the customer.
"To do so, drive accountability and enforcement. Always ask for proof and evidence to support statements which start with 'I think' and 'I feel', when it comes to driving data-based decisions," Yap explained. Having stakeholders becoming more involved in the research process is also important. As such, marketers need to "bite the bullet" and find the time out of their busy schedule to help facilitate the process. Yap said:
Try to achieve quick wins to assure results, creating more demand in the process.
At the end of the day, driving a data and research driven culture in the workplace boils down to simplification and accessibility. Another suggestion would also be creating a feedback loop in the form of sharing sessions.
"Articulate how the insights have helped in making better business decisions and make it as meaningful as possible," Yap added.
For AXA, the company deep dives into executing customer surveys and embarking on a significant amount of social listening is crucial in understanding customers. On top of keeping note of what customers are saying about the brand, AXA also looks internally to see what employees are saying about the brand. One such example was the opening of a "digital hive" within the company which is open for everyone. This allows any AXA employee to look at the dashboards and understand what current brand sentiments are.
"We do a lot of test and learn, and keep a close watch on the marketing investments we have made," Yap said.