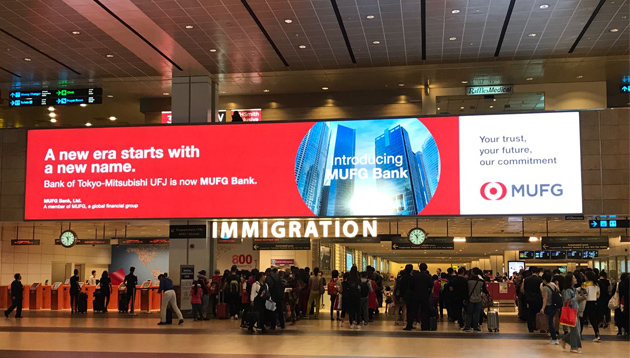 The Bank of Tokyo-Mitsubishi UFJ, a core commercial banking subsidiary of Mitsubishi UFJ Financial Group (MUFG), has changed its name to MUFG Bank. The new name aligns with the MUFG Group brand and also reflects the significant steps the group has taken to provide its customers with a broader and more integrated range of financial services.
In a statement to A+M, Jenny Lim, head of corporate communications, Asia & Oceania, MUFG Bank said the global renaming effort spans more than 50 countries, including Malaysia, Indonesia and the Philippines. MUFG has launched a branding campaign in Asia Pacific, which will last two and a half months, encompassing key channels from print and digital to OOH, as well as industry event sponsorship.
It has also embarked on a global branding campaign, tapping on an integrated media approach covering print, digital, OOH as well as PR media events. Internal engagement and marketing efforts were also undertaken to engage and excite the more than 80,000 staff at MUFG Bank.
Lim said the change marks an "important strategic shift" in its business, to unify groups and business functions under one banner of services and solutions.
She added,
The bank's corporate logo and brand values remain the same as this is merely a legal name change for the banking identity.
The conversion of brand assets involved updating the relevant regulatory, legal as well as corporate stationery to register and incorporate the new name.
"With the new MUFG Bank name, we are better able to promote our MUFG master brand and reinforce the One MUFG concept. This in turn leads to a more vigorous group-oriented promotion of our business," Lim said. While Lim told A+M that there will be no key personnel changes, she declined to reveal the cost of the renaming.
MUFG Bank's president and CEO, Kanetsugu Mike, said although the bank's name has changed, it's important to understand that its dedication to serving customers, and its unyielding focus on lasting relationships, will continue even as it seeks to expand its client base worldwide.
"Now, with the new MUFG Bank name, we are better able to promote our MUFG master brand and reinforce the group-oriented promotion of our business," he said.
He added that it will allow the company to fulfill its mission of being a foundation of strength committed to meeting the needs of customers, serving society, and fostering shared and sustainable growth for a better world.