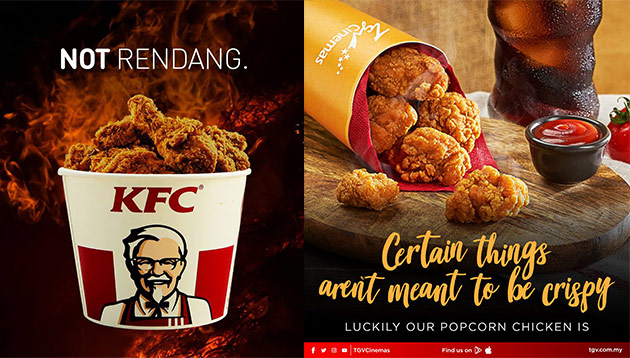 KFC has jumped on the recent uproar over the chicken rendang incident on Masterchef UK, to promote its crispy fried chicken.
The incident, which went viral on social media amongst Malaysian consumers, occurred when one of the Masterchef UK judges commented that while he liked the flavour, the chicken skin was "not crispy" and " all the sauce was on the skin". This resulted in the contestant being eliminated from the competition. The story even made headlines on BBC.
News jacking the situation, KFC quickly created cheeky Facebook post which said that the only thing that should be crispy is KFC's fried chicken. The post garnered over 14k reactions, 8.5k shares and 705 comments at the time of writing.
KFC is not the only brand that has seized this newsjacking opportunity to promote its product.
TGV Cinemas also posted a picture of its popcorn chicken on Facebook with the caption "Certain things aren't meant to be crispy". The post amassed over 976 reactions, 317 shares and 86 comments at the time of writing.
This incident even caught the attention of Prime Minister Najib Razak, who tweeted "Does anyone eat 'crispy' chicken rendang?", accompanied by a picture of the dish. Former Malaysian Prime Minister Dr Mahathir Mohamad also took a dig at Masterchef UK by tweeting "Maybe you are confusing rendang chicken with KFC."
Saying chicken rendang should be crispy, to me, is equivalent to saying that traditional Buffalo wings should not have hot sauce or poutine has too much cheese. The foodie in me is yelling "Heresy!".
(GIF courtesy: GIPHY)