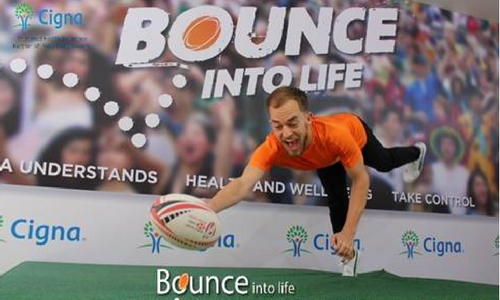 Cigna Corporation is celebrating the second year of its sponsorship of the Hong Kong Rugby Sevens by hosting a "Bounce into Life" game booth in Causeway Bay.
"We are excited about our continuing partnership with the Hong Kong Sevens, which is truly one of the World's great sporting competitions," said Patrick Graham, CEO, Cigna International Markets. "Being part of Hong Kong's best sporting event, is a perfect way for us to celebrate the sport and the Health and Wellness benefits that brings to our community. We wish all the players and participants a safe and fun Sevens."
During the tournament, members of the public are invited to "Bounce into Life" at Cigna's promotional booth at Lee Theatre and compete for prizes by catching a rugby ball to score a dramatic try (with a soft landing, the release notes).  Photos can be shared online and most voted "catch" at the booth will win two tickets to the Tournament Finals on Saturday and Sunday, April 7 and 8.
Moreover, in the spirit of being a healthcare solutions provider and Hong Kong Sevens Sponsor, Cigna offers rugby fans some tips during the tournament:
Drink plenty of water: the jugs can hold water as well as beer.
Eat healthy food: maybe try something different from a pie this year.
Wear sunscreen and a hat: remember the East and South Stands face the sun during the day.
Stand up and move periodically: take part in the Mexican Waves!
Seek medical help if needed: this one is important – there is signage, and officials can help direct you to the First Aid Center.