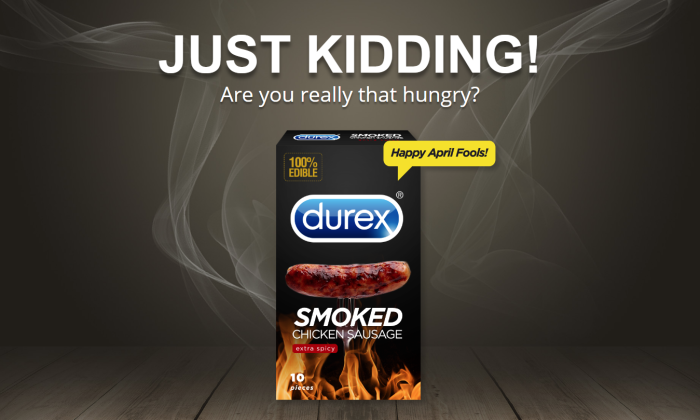 It's that time of the year again where brands come out to prank their customers! From revealing new controversial flavours to submitting new innovations, here's what brands did this year across the region to prank consumers.
Durex
If durian or strawberry-flavoured condoms are not avant-garde enough for you, maybe a smoked chicken sausage flavour might be? For this year's April Fools, Durex introduced an all "new" edible condom for a more "tasty experience" which comes in 10 pieces and "extra spicy".
That being said, the Facebook post linked a microsite which diverted social media users to a page which said "Just kidding! Are you really that hungry?"
Pranking consumers with different flavoured condoms is not a new move for Durex, just last year, it came up with an eggplant flavoured condom in a bid to promote safe sex among youths.
IKEA
Targeting men who do not want to follow its step-by-step manuals for assembling furniture, IKEA created a GIF which showcases the old IKEA assembly manual, which upon opening, reveals a set of blank pages on the inside.
The campaign ran across Singapore, Malaysia and Thailand focused on the insight that most people who don't follow manuals are male. This is due to the pride and joy of self-discovery they experience when assembling furniture with absolutely no help.
Ribena
With the new fashion season upon us, so are incoming beauty and hair trends. Well, step aside mermaid, cotton candy and denim hair – here comes Ribena hair, the brand said. In its how-to DIY hair colour video, Ribena gave steps such as mixing its cordial and applying in on hair to achieve the desired result.
The result? A vibrant purple shade – unsurprisingly the shade of its brand and packaging.
Burger King Singapore
Not one to be upstaged by the recent frenzy surrounding McDonald's now sold out chocolate pie, Burger King has introduced a new Chocolate Whopper. With a chocolate cake bun, chocolate patty, the Chocolate Whopper is also topped with raspberry syrup and white chocolate rings which resemble onions, among other sweets resembling actual burger toppings.
The spot for this garnered around 48,000 views, 1,800 shares and 635 reactions at the time of writing.
Goodyear Malaysia
Yoga fans, pay attention. Just yesterday, the American tire company revealed that it would be going into the "athleisure" industry through the release of its treaded yoga pants made entirely from "patented textile that won't let you slip while doing hatha yoga poses". This was accompanied with an image of said leggings which took on the print of tires.
This was quickly revealed to be a joke when a link to which goes to more information about the product turned out to be an announcement that the new leggings was an April Fools joke.
Well, I guess back to regular yoga cotton spandex leggings for me.
Honor Malaysia
Want a phone which changes colour like a mood ring? Well, Honor Malaysia has claimed that it has invented a phone which is "super durable", water proof, fire proof and even changes colour due to a discovery of a new metal. The company even took some time to conduct a social media contest to win a mystery prize.
Anymore April Fool's Day campaigns which got you laughing? Let us know at viviennet@marketing-interactive.com.