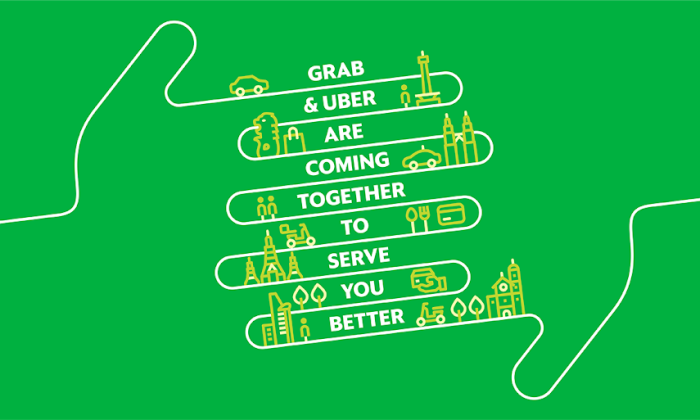 After news of its SEA acquisition by Grab this week, Uber has found itself in PR hot water following multiple reports of employees and partners being impacted by the move.
In multiple media reports, Uber employees were reportedly told to clear their belongings and go on paid leave. A video of Uber employees packing up was also leaked online. In a previous statement to Marketing, an Uber spokesperson refuted claims over job cuts, and added that both Uber and Grab are "committed to putting their people first as part of this transition".
Grab's spokesperson added that Uber employees, including its leaders, in its Southeast Asia operations will be offered employment in Grab. Meanwhile, Uber employees whose coverage is wider than Southeast Asia will continue to work in Uber. Grab later clarified once more that Uber employees were not communicated with due to the lack of access to contact information.
The stir surrounding the fate of Uber employees also did not go unnoticed by other technology companies, with several reportedly contacting employees in both digital and support functions for job opportunities, reported BT. A quick check by Marketing also found a LinkedIn post by Fave's head of people Audra Pakalnyte giving a "shoutout" to Uber employees looking for new career opportunities.
Partners of Uber were also impacted by sudden news of the merger, with Lion City Rentals (LCR) announcing on social media that the company and UberHUB would be closed until further notice. LCR is Uber's wholly-owned car rental subsidiary in Singapore, which taxi company ComfortDelGro has a 51% stake in. It later followed up by revealing that it is still seeking more clarity from the Grab and Uber merger.
The move also saw the abrupt drop out of Uber and UberEATS from Lazada's LiveUp loyalty programme, which currently offers users discounts and rebates on services such as Lazada, RedMart, Netflix, Taobao Collection, Uber and Uber Eats.
Meanwhile, F&B partners with UberEATS had also expressed concerns over the merger and what it means for them in terms of new contracts, commissions and delivery radius, an ST report said. One F&B partner also claimed in the report that these details were not discussed as of yet.
Industry players Marketing spoke to agreed that both Uber and Grab could have communicated better with employees and partners, despite the uncertainties of the acquisition.
"While details of the acquisition should be kept closely guarded, Uber should have collaborated with trusted senior leaders to enable them to communicate with their teams," Lina Marican, managing director of Mutant Communications said.
For Lars Voedisch, principal consultant and MD of PRecious Communications, the move to communicate the move in this manner seemed rushed. This is because mergers or takeovers of directly listed companies usually have a clearly prepared communications plan read for multi-channel outreach and cascaded information layers.
"To me it looks like a 'rush job' decided on highest management and investor level to finally get it over and done with - but without sufficient empathy applied to look at the immediate impact it has on the wider community of employees, drivers, passengers etc," Voedisch explained. He added:
It seems that communication and ultimately people weren't a priority for this transaction.
Keeping in view Uber's past brushes with bad PR, Voedisch said that it was also shocking that more emphasis was not put on planning and executing the communication better. He added that the communications also came across as "cold and lacking empathy" and that the takeover is a "poor example of an M&A execution from a communications perspective".
Ensuring proper employee communication
As rumours regarding the takeover were out in the news for weeks, Voedisch explained that staff and drivers should have been notified first once the deal was finalised. Staff also needed to be informed in a humane and respectful manner.
"Think about how the situation must have looked from an Uber employee's perspective. Asking them to leave within two hours and going to a Grab town hall a day later could make staff feel 'chased off the yard' and then ordered to the new boss' house. Nobody wants to be treated this way," Voedisch added.
For Mutant's Marican, a town hall meeting jointly-hosted by Uber and Grab in the morning would have been a lot more personal than an email, allowing employees to ask questions and squashing doubts and rumours.
"Reacting to negative rumours, Grab was put in defence mode as they had to explain how they had no access to communicate with Uber employees," Marican explained, adding that it is also important to pick the right channels to communicate with F&B vendors and drivers. This will leave no room for speculation and third-party communication from the likes of ComfortDelGro.
?Also weighing in on the situation was David Lian, managing director of Zeno Malaysia, who said that the key learning point here is viewing the acquisition through the eyes of employees. This is because employees would likely not be at ease after being told to leave the premises on a short notice, even if they are still being paid.
"The big question all Uber employees have on their minds is whether they have a future or should they start looking for jobs. And these questions are spilling out onto social media.
Lian explained that it is not rocket science to say companies should anticipate questions employees will have and ensure they answered satisfactorily before any kind of public announcement. He added that a good litmus test is to ask "If this happened to me, how would I react?"
"While Grab has stepped forward to say they are 'committed to try and find a suitable role' for Uber employees, it's not enough. What Uber should have done was to provide clarity and earmark a communications process beforehand, followed by communicating this to employees before the public announcement," Lian said, adding:
Most employees just want to know what happens next.
"The fact that a town hall was scheduled so late in the day, gave a lot of time for employees to be confused, angry and subsequently air their frustration on social media," Lian added.