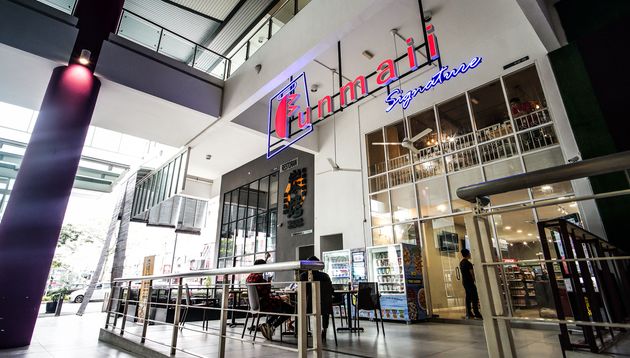 Homegrown cashless grab-and-go convenience store Funmaii recently launched its second outlet at Bandar Puteri, Puchong, in a bid to become a major player in the cashless retail ecosystem.
Funmaii-branded stores offer daily necessities coupled with the convenience of electronic payment, allowing consumers to make payment via the Funmaii e-wallet app service or by credit card. The Funmaii e-wallet app service also allows consumers to track their expenses and redeem rewards in the form of discount vouchers, extra credit and rebates.
To cater to the diverse consumer needs, Funmaii is introducing three types of convenience stores - Basic, Signature and Concept. Funmaii Basic stores offer cashless convenience and small seating areas, while its Signature stores feature a "chill out" area for small events. Meanwhile, its Concept stores will showcase an array of products and services that are not typically found in convenience stores, such as desserts and coffee bars. The Funmaii Concept stores will be launched in partnership with various brands.
Besides selling Malaysian food products, the stores also offer a variety of imported snacks and beverages from Japan, Taiwan, South Korea and Thailand. Funmaii plans to install 10,000 vending machines in major shopping malls around Malaysia in the next three years.
A+M has reached out to Funmaii for additional details.
According to Dato' Brian Wee, co-founder of Funmaii, it plans to open around 30 outlets over the next 12 months and ultimately have 100 outlets by 2019. It is also looking to grow its network of Funmaii-branded stores and kiosks in Southeast Asia, expanding into countries such as Singapore and Indonesia.
"Through Funmaii, we want to help brands connect with consumers through a technology-based business model, resulting in a modern retail environment for everyone," he added. He also said that Funmaii is building a fuss-free and secure cashless ecosystem that fits the increasingly hectic lifestyle of modern consumers.