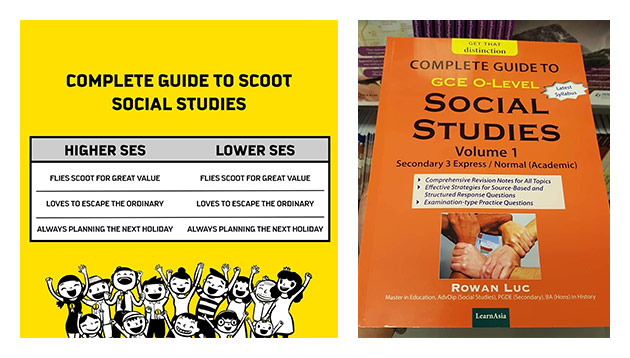 Scoot has garnered online praise for its witty post taking aim at the contents of a controversial social studies textbook making its rounds online. The book classified how Singaporeans of different socio-economic statuses (SES) behave; it also classified different behaviours as "higher SES" and "lower SES".
In the post, Scoot created a table to differentiate higher SES and lower SES travellers – only for the contents of each column to be exactly the same. This includes flying Scoot for great value, a love to escape the ordinary and a traveller who is always planning the next holiday.
The post has since garnered over 1,700 reactions, 769 shares and 105 comments. Many netizens praised Scoot for its sass and "best in class" PR and marketing for being engaging and based on current events. In response to many comments, Scoot was also seen including GIFs and witty notes to commentators.
Marketing has reached out to Scoot for comment.
The controversial social studies textbook in question was first pointed out by netizen Ahmad Martin, who uploaded a page outlining the different behaviours of higher SES citizens and lower SES citizens. Lower SES behaviours included activities such as speaking Singlish and eating at hawker centres – which is often perceived to be a big part of Singaporean culture.
Meanwhile, higher SES activities include "use of formal English in daily conversation or at home", "regular fine dining at expensive restaurants" and "sports like golf or tennis at an exclusive country club".
Unsurprisingly, this did not sit well with netizens, which called out the textbook for overgeneralising and perpetuating social divides. Read the full post here:
The textbook also prompted the Ministry of Education (MOE) to step out and clarify that this book was not listed on its Approved Textbook List. This was after multiple requests were made for MOE to weigh in on the matter.
"Commercial learning materials approved by MOE will bear the Ministry's stamp of approval on their front cover or inside the book," the statement written by MOE on Martin's post added.
Being witty in its marketing is not a new move for Scoot. In 2016, the brand took a jab at Malaysian competitors AirAsia X after an AirAsia plane bound for Kuala Lumpur ended up Melbourne. It also sparked a debate online after a tongue-in-cheek response to a customer complaining about its in-flight food.
Most recently, the airline appointed BLK J to manage creative duties for a period of 27 months with the option to extend. The appointment follows a closed door pitch called in September this year, which saw BBDO and Tribal DDB entering the final round of shortlist.
Read also:
Scoot uses VR to change low expectations linked with low cost travel
Scoot flies further with new "Scootitude", launches new destinations
Scoot unveils new tagline and campaign as it bids farewell to Tiger
Scoot-Tigerair to reflect single brand identity post merger
Scoot's new spot shows how boredom can kill
LOOK Scoot shamelessly asks staff to share stories about their "first time"
LOOK Scoot shines the spotlight on neglected fathers