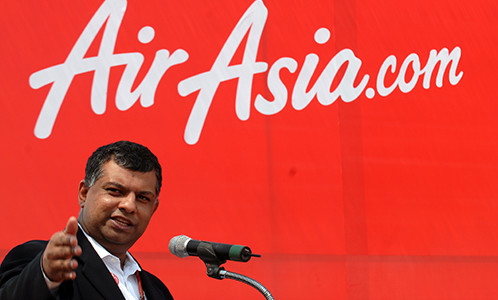 AirAsia's group CEO Tony Fernandes (pictured) has reaffirmed the company's plan to deliver in the sale of AAE Travel, a joint venture between AirAsia and Expedia Southeast Asia.
According to multiple media reports, AirAsia has a 25% stake in the company and Fernandes tweeted that following the sale, it will buy back an asset to build the airline's digital portfolio. A+M has reached out to AirAsia for more comments on the asset it plans to buy back to build its digital portfolio.
AIRASIA will deliver another sale as promised. Last one we said Exepedia . Will be a sale and a buying back of one asset to build our Digital portfolio. Delivered all we said. Now onto our group and Digitak structure

— Tony Fernandes (@tonyfernandes) March 12, 2018
Earlier this month, Fernandes announced plans to divest its stake in Expedia by the end of 2018, The Edge Markets reported. He also said that AirAsia will continue to focus on core operations and dispose its non-core assets, adding that the airline plans to sell its food business and logistics and cargo operations. AirAsia first divested its stake from 50% to 25% in 2015, increasing Expedia's total ownership to 75%, according to The Star.
This news comes after Fernandes said recently that the airline will be consolidating its digital businesses under RedBeat Ventures and marketing to investors as an ASEAN travel and lifestyle tech ecosystem. Last year, AirAsia also segregated its businesses into airline transportation and digital divisions in an effort to streamline and offer better clarity and business focus across each division.
To remain relevant in the e-commerce space, AirAsia recently appointed former CEO of Pos Malaysia Datuk Mohd Shukrie Mohd Salle to head up Redbox, an end-to-end courier service. "With this new structure, we are giving our digital businesses room to grow beyond serving just AirAsia and in becoming major tech players within their own right," Fernandes said.
Read also:
AirAsia: To really stand out in Malaysia, you need to be a risk taker
AirAsia picks Senai International Airport to unveil FACES
Uber and AirAsia pair up to reach consumers in 16 different markets
AirAsia names actress and influencer Neelofa to board
AirAsia BIG Loyalty launches eStore online shopping platform