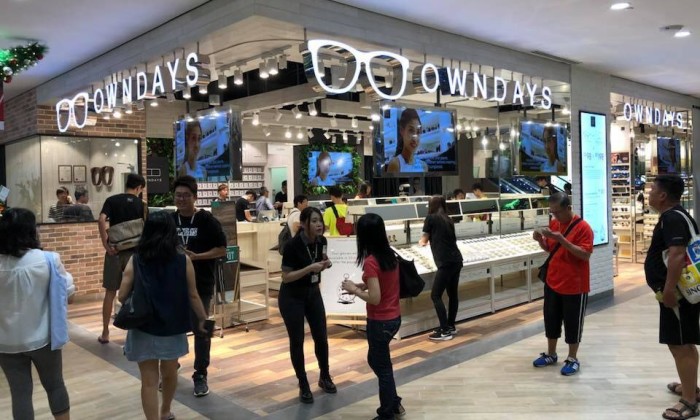 Eyewear brand OWNDAYS has courted online controversy after it stopped a discount campaign which asked followers to click likes for discounts on its glasses. The campaign, which initially was slated to go on for one month, was stopped just days after launch. Customers could get a discount if they took a picture in an OWNDAY's store and uploaded it onto Instagram. Discounts were given based on two tiers: Number of followers and number of likes on the image.
Without a cap in the amount of discounts which could be attained, the saw many netizens being able to claim a pair of free spectacles from the eyewear brand. While wildly successful, the campaign quickly got out of hand, with OWNDAYS stores seeing an overwhelming response to the campaign. Netizens took to social to share photos of the chaos in the stores with customers "raiding" drawers and stressed retail staff unable to cope with the demand.
This prompted the brand to dismantle the promotion just after three days, and issuing a statement online explaining the campaign response had "far exceeded [its] expectations. While OWNDAYS has not yet replied to Marketing's queries, here's a statement from the brand on social media:
Despite its explanation,  many netizens called out the brand for not communicating the end of the promotion ahead of time. However, others were quick to come to the brand's defence by calling out netizens for abusing the brand's promotions and using "fake likes" in a bid to game the system. Some customers had even deleted their posts after receiving the free spectacles.
Despite the backlash, several industry players Marketing spoke felt this was a great position for the brand to be in. Preetham Venkky, director at KRDS Asia, explained that the promotion was likely utilised to the fullest, and that not many brands can stake claim to such an achievement.
"At the surface of it, I think this was a great promotion and mechanic. I'm certain OWNDAYS awareness KPIs were met," Venkky added. A quick check by Marketing saw over 6,000 entries on Instagram were using the hashtag #owndaysfollowerdiscount. Almost 1,500 entries, which were around 25% of entries, garnered more than 200 likes, which gave users a substantial discount of SG$100, translating into around 1,500 free pairs of glasses.
"In a well thought through promotion, you do want a few users to 'abuse' the promotion. This inherently allows for a level of viral-ity (word of mouth). What OWNDAYS could've done better, is to limit the value of giveaways to the longtail. For instance limit discount to a maximum of $50," he said, adding:
Any promotion that brings down the value of a product to zero, undermines the brand.
Should marketers go beyond "likes" as a promotional method?
Venkky is of the view that brands will continue to use these metrics as part of their promotions.
"I don't think the use of likes, comments and shares will go away anytime soon. With Facebook taking recent steps to enforce more transparency, these metrics are likely something brands would start embracing fully moving forward," Venkky added. Moreover, these metrics are also something which the influencer industry hinges on to drive their value for brands.
Also weighing in on the matter is Jeffrey Lim, general manager of Carbon Interactive, who said the decision to use "likes" as a promotional method is dependent on the brand's campaign objectives. These strategies would differ if the objectives are growing followers, customer acquisition, driving engagement or rewarding existing followers/customers respectively.
Once the objective is clear, the campaign messaging should be about addressing the objective so it goes beyond hype generation. In the case of OWNDAYS, its objectives might have been about increasing followers online, Lim added.
It's very easy for anyone to garner likes and followers through both legitimate or not legitimate ways.
"Such a campaign and contest mechanic is bound to generate buzz since it involves monetary benefits for the followers or the target audience. As such, brands need to be prepared to honour the rewards," Lim said.
For Rika Sharma, managing partner, Ogilvy & Mather Singapore, the campaign is a good reminder to marketers to re-assess their marketing efforts and evaluate the purpose of running such promotional campaigns. She outlines  five tips for marketers running promotional campaigns:
1. Be clear of the objective and desired outcome of the promotional campaign.
2. Evaluate what is the impact of the campaign - does it help build brand equity? does it showcase product differentiation? Does it help build advocacy for the brand? Does it drive genuine purchase intent and footfall?
3. Be prepared. Ensure robust mapping taking into account all possible scenarios and outcomes that can occur during a live promotional campaign including but not restricted to issues management, manpower and demand fulfilment.
4. Test and Learn. It is worth testing a campaign internally before taking it LIVE to ensure that all pitfalls - messaging, user experience, design flaws, gaming the system are addressed to reduce failures
5. Develop and implement stringent Terms & Conditions before running a campaign and best to have it vetted by legal teams. Equally important is the communication of these mechanics, so that consumers know exactly what to expect.