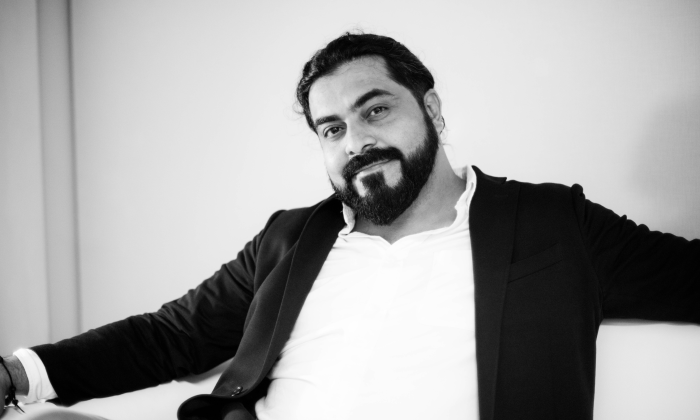 Referring to himself as a "hippie in a suit", Anish Daryani, founding partner and president director of M&C Saatchi Indonesia, a role he took on in January this year. Prior to his role at M&C Saatchi Indonesia, Daryani was CEO at Phibious Indonesia since 2016.
In a conversation with Marketing Interactive, Daryani shares how he much he has to thank for the advertising industry, which allowed him to find friends, love (his life partner), fortune, fame, an enormous depth of learning. His journey in advertising also led him to two passions - photography and writing.
"It's clearly the most fun I could've had with my clothes on," Daryani added.
Daryani also takes us through his 15-year career in advertising, which has brought him to over five countries including India, Kenya, Nigeria, Vietnam and Indonesia.
How do you describe your management style? 
I consider myself more of a mentor than a manager. Taking raw talent, helping them realise their potential and making them shine is something that I enjoy the most. I believe everyone delivers to the best of their potential at all times, provided they are given the right motivations.
If you manage people too much, you curb their potential.
You need to let them do their thing. So, my management style is customised around motivations of my team members. There's never a one-size-fits-all formula. Talent is unique, and everyone needs a personalised solution. It's exhausting! But nothing's worthier of your time.
Who was the mentor who influenced you the most and how?
I would say, if you want to count your blessings then count your mentors.
I have been very fortunate to get an opportunity to train under some of the industry's brightest minds. The first is Kanchan Datta of Inner Circle Advertising, who taught me the ground rules of the game when I joined them as a management trainee. Next was Sanjeev Khanna, my management supervisor at Ogilvy Kolkata. He taught me one of life's biggest lessons - how to stand your ground, even when you're getting bullied.
I also worked with Mahesh (Mash) Chauhan - when he was group president at Rediffusion Y&R. He's been my biggest supporter and strongest critic, teaching me management as it's meant to be, and the business of advertising beyond what's visible on the surface. Another mentor was Gautam Talwar, when he was chief strategy officer of Rediffusion - Y&R. He taught me how to focus and think straight, and how to sift insights from heaps of information.
At Airtel Africa, head of marketing Achieng Butler taught me how to look at problems from the client's point of view. This gave me a clearer understanding of looking at advertising as a service industry, and how mutual trust is important in building strong client-agency bonds. It also proved that clients can be mentors too.
In Leo Burnett-Orchard, I worked with Thomas Xavier when he was NCD and chairman. He taught me how to find purpose in my work. In many ways, I was the raw talent that he polished, and in the process, he helped me find purpose in my own life. Meanwhile, Arvind Sharma, then-chairman of Leo Burnett, taught me how important it was to be good with numbers and how advertising is as much a business, as it is a passion.
Next is Chris Catchpole, my ECD at two agencies in Vietnam. He taught me to remember that ideas can come from anyone - even a suit and that I should never hesitate from offering creative solutions. Yes, peers can be mentors as well.
I'd also like to count my parents as my mentors - who struggled tirelessly to give my brother and me and great education and strong values.  I'm the sum total of the efforts of all these people who shaped me. They are to blame for what I've become. (Chuckle)I will remain eternally grateful to them.
What has been the proudest moment in your career?
It's still early days for me, and I'm hopeful that many proud moments to come. But there are a few that are noteworthy. This includes winning multiple awards in the India, Vietnam and Indonesia markets and being recognised as an advertising and marketing talent in Asia. But starting up M&C Saatchi Indonesia in January is something I am most proud of.
What inspires you the most?
Other creative people outside advertising are the ones who inspire me the most. This includes the work of photographers, painters, authors, actors, sculptors, musicians and more. These are the individuals who cater to a massive audience and develop a much bigger following than any advert copy-art team known to us. They have a point of view on the world, and looking at things from their eyes helps you understand many different dimensions of creativity you didn't even know existed.
What's the toughest part of your job?
The hardest part of my job is to keep inspiring peers, colleagues and clients, every single day. Every interaction is an opportunity to do that, so the need to add value puts a lot of pressure sometimes.
What has been the harshest thing said to you?
When I was starting out, I was told by a very senior interviewee that in his opinion I would never make it in advertising. I'm grateful to him because proving him wrong became my strongest motivation to succeed.
What do you do in your free time?
I engage in photography – wildlife photography to be precise. Cameras always intrigued me as a child and led me to found the photography club in school. I got more hooked during my stint in Kenya, with repeated visits to The Masai Mara and Serengeti, among other game parks. I maintain my portfolio on 500px and Wix.
(Gallery available on web)
I also do a lot of writing, having written a film script and three fiction novels. But publishing is a post-retirement plan. Other than these interests, I love scuba diving and make frequent drive trips with my dive buddy – my wife Natasha. I also dote on my three girls, my wife and daughters Arshia and Mira.
(Gallery available on web)
How do you ensure a proper work life balance?
There's no work life balance. There's only work life integration.
When you're in the ideas business, you never stop thinking. You need to be a keen observer of life, of people, and how they behave. There's inspiration in movies, soaps, in books, blogs, articles and work of other creative people. You never stop learning. And never stop working.
Then again, advertising can be a trying and exhausting profession. You don't want to burn out