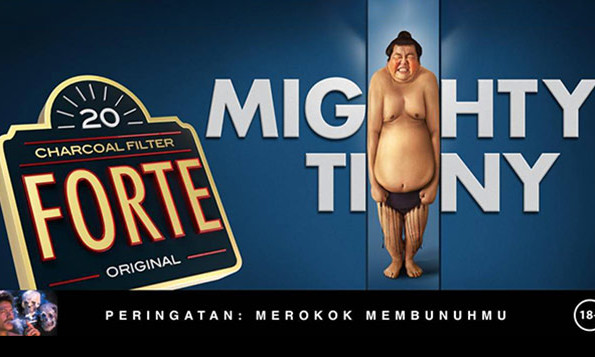 Indonesia brand Forte has launched a series of creative advertisements for its new tobacco-wrapped small cigarette specifically for the local market. This is in a bid to offer a fresh take on the well-ingrained image, and appeal to a wider audience.
Assisted by creative agency Flock, the campaign aimed to showcase the brand's unique value proposition of a small sized cigarette with a powerful flavour. The video features a catchy tagline, "Mighty Tiny", accompanied by a sumo wrestler comically being contained in a tiny and uptight space, which looks to highlight "the greatness of small", and that small things too, can pack a punch.
It is also said that Forte's tobacco leaf wrap is designed to bring out a stronger gusto unlike other existing cigarette brands in the market today.
In a press statement, Ivan Hadywibowo, CEO, Flock, said that the market is always looking for something fresh, and searching for ways to break the norms to stand out from the crowd, which is what the brand is trying to convey through the new campaign.
"Instead of following a typical advertising mould for small cigarettes, we're trying to elevate our client's brand by designing a groundbreaking creative solution that will highlight their products' outstanding qualities. For Forte, we wanted to put the emphasis on its unusual size and strong, powerful flavor," Hadywibowo said.
Watch the spot here:
https://youtu.be/nBNES79VMBo