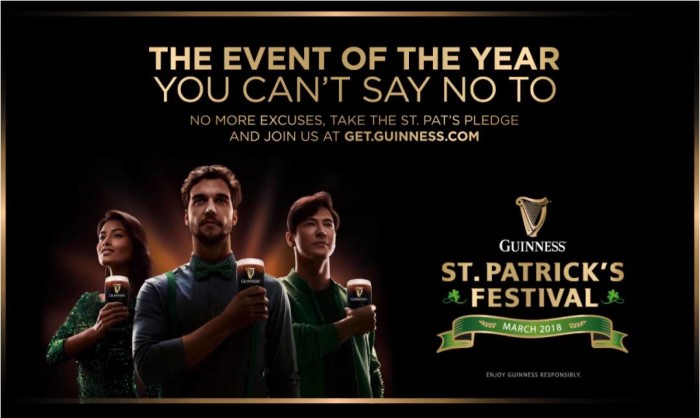 Guinness has launched its campaign to celebrate the upcoming St. Patrick's Day. Called "The Guinness St. Patrick's". The campaign will be running from 1 to 31 March 2018, with promotions running in bars and pubs, get.guinness.com and in-stores.
The social-led activation, developed by Saatchi & Saatchi, urges Singaporeans to make a public pledge to join their friends at the Guinness St. Patrick's festival. In return, they'll get a "no-questions-asked" pass to cancel on their friends at any other event in 2018 and a one-for-one deal on Guinness.
The St. Pat's Pledge will be activated across print, radio, digital, social and in-store, to drive footfall to the two events at Club Street/Ann Siang on 10 March 2018, and Circular Road 16 to 18 March 2018.
"Whilst St. Patrick's Day is a well-known occasion in Singapore, it's seen as a foreign import. This year we had one objective, to create an occasion that brought the whole of Singapore together to celebrate friendship and embrace 'Irish Craic'," Sabina Godri, marketing manager, Guinness, Asia Pacific Breweries Singapore.
According to Rosalind Lee, general manager, Saatchi & Saatchi, St Patrick's Day isn't an event locals are "FOMO" (fear of missing out) about. As such, the brand needed a strong local insight to the make the event even more relevant.
"With 58% of Singaporeans claiming that a great night is often ruined because their friends cancel plans, there is a clear role for a brand which stands for bringing people together to celebrate friendship," Clinton Manson, executive creative director, Saatchi & Saatchi said.
Watch the video here.