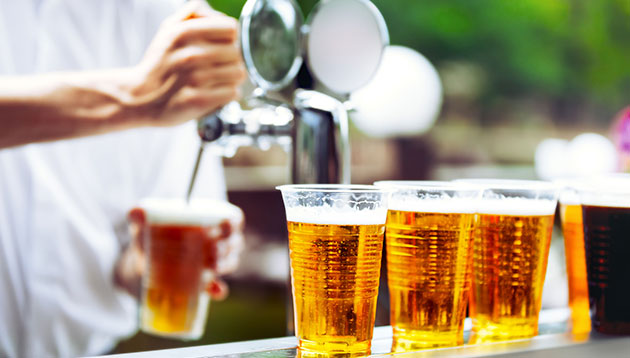 SPH's Sphere Exhibits to bring Beerfest Asia to China
The marks the first Beerfest Asia edition in China.
XCO partners NETS to reach and reward motorists
The move marks XCO's first partnership to harness the capabilities of WINK+ GO, the latest feature and CRM programme of the WINK+ app which targets commuters and now motorists.

NTUC Fairprice sponsors local professional boxer Muhamad Ridhwan
FairPrice will also be the official sponsor of the IBO international championships, Roar of Singapore V, which will be hosting the fight.
Hootsuite integrates Pinterest to platform
As part of the strategic partnership, Hootsuite will be listed as one of Pinterest's content marketing partners.
Former SAP media director Travis Teo moves to Adzymic
In his new role, he will be spearheading product and innovation, customer success and advertising operations of the company.
Republic Polytechnic picks antics@play to drive marketing campaigns
The campaign will focus on RP's teaching pedagogy and schools, as well as vibrant campus life, to appeal to potential students in upper secondary levels.
Qlik names Text100 marketing communications agency
The agency will utilise a multi-channel approach, with its focus on public relations and social media to bring this movement.
Valtech names Henri Petitet regional director APAC
According to the press statement, the move signals the agency's commitment to growth and expansion in the region.
ComfortDelGro upgrades in-taxi screens for better entertainment
This move is in line with the group's commitment towards incorporating technology into its operations.
Coca-Cola turns bus shelters into arcade game kiosks
The kiosks challenges players to get as many "Fizz Points" as possible by tapping on all the Coke bottles while avoiding falling objects.
Freeman acquires Info Salons in a bid to extend its global presence
According to Jo-Anne Kelleway, CEO, Info Salons Group, the acquisition is "an ideal fit".
The North Face partners JCDecaux for data-led interactive campaign
The campaign uses real-time weather information geo-located around ION Orchard to deliver targeted and relevant advertising to shoppers.
Epson and GIFC renew football partnership for the third year
This makes Epson the football club's platinum sponsor until the end of December 2018.
R3 bolsters company with double promotion
In the new role, both consultants will be taking on more global thought leadership initiatives in addition to their client and team leadership responsibilities.
Essence bolsters APAC leadership team
Kingshuk Mitra will take on the role of chief operating officer, APAC while Monica Bhatia takes on the role of vice president, client partner.
LANEIGE jumps on board JCDecaux's upgraded ION Orchard offering
This is through the launch of its "Real Me, Real Perfect" campaign.
Grace Blue names two directors for regional offices
In her new role, Voirol will be asked to focus on expanding both the agency and brand side roles within the region.
Meltwater acquires data and analytics platform DataSift
This acquisition marks the sixth one in the past year.
PSB Academy launches campaign for ASEAN recruitment
The campaign targets students who seek to pursue quality transnational education, as well as workers who are looking to upgrade themselves with an international qualification.
NCPC brings back "Black Heart Awards" for scam awareness campaign 
The campaign ran for about four months and first launched in 25 November 2017.
Nielsen adds new toolkit to help retailers uncover 'What's Next'
It helps measure the effectiveness of point of sale merchandise (POSM) based on what shoppers "See, Think and Do".
JCDecaux signs exclusive partnership with Raffles City Shopping Centre
Called the Raffles City Digital Gateway, the new offering sees Seiko Watches as debut advertiser.
Uber revs up with Clear Channel to promote UberFLASH
The campaign runs from 15 to 28 February 2018.
Ricola brings sweet start to loyal customers in new campaign
The "instant sure win" campaign is in a collaboration with JacobAmanda.
RedDoorz grows senior management team
RedDoorz aids hoteliers and guest house owners showcase their property over a responsive platform.
KRDS SG strengthen teams with new account director and hires
The agency has hired Muhammad Hidayat as the new account director for KRDS Singapore.
Blockchain provider Huobi Global on the hunt for PR agency
Huobi's sub-brands include Huobi Korea Digital Asset Exchange, Huobi China News & Research Platform, and Huobi Wallet Digital Asset Management.
Jack Morton bolsters SG office with new hires
The new hires reflect the growing needs of the business and within the agency's operations and production teams.
Tennis Australia and FOX Sports Asia renew partnership until 2021
The renewal of the broadcast rights for the Australian Open covers 17 countries in Asia Pacific, including Singapore, Malaysia, Indonesia and Hong Kong.
Mediacorp Studios launches VR incubator programme
This is to train in-house VR experts to produce compelling experiential content for the next generation of viewers.
GrabPay names MD to handle SG, MY and PH markets
She reports to Jason Thompson, managing director, GrabPay Southeast Asia, in this newly-created role.
Ngee Ann Poly and Hakuhodo partner up for mentorship programme
The workshops will culminate in a group advertising campaign pitch presentation by the students.
PropertyGuru Group hires CTO
He will be responsible for the Group's technology and engineering functions across offices in Singapore, Malaysia, Thailand and Indonesia.
The New Paper ceases Saturday edition
It is now a five-day publication and is available on print and online platforms.
Dentsu Aegis Network acquires DWA
The move will expand the B2B offering at people-based marketing agency, Merkle.
JWT Singapore names Farrokh Madon chief creative partner
He was formerly chief creative officer of Y&R Singapore, a role he left in 2014.
Tourism Western Australia names country manager for MY and SG
The new country manager will be tasked with developing cooperative marketing partnerships with travel agents and airlines.
Singapore Cancer Society encourages Singaporeans to 'Give Up For Good'
The campaign encouraged smokers to willingly donate any number of fresh cigarettes.
FutureBrand names strategy director
More on the appointment here.
Content marketing firm Immedia names new COO
Jones was most recently in charge of running commercial operations for Isentia Strategy and Content.
HPB partners Moove Media to showcase latest National Steps Challenge
Publicis Singapore and Wavemaker Singapore were involved in the month-long campaign, which runs until the end of December 2017.
SPRG bolsters Newsroom offering with former journalist hire
Prior to the appointment, Tan was primarily a sports reporter at TODAY, and has also covered news stories for the paper which were centred on current affairs.
German mobile platform Wagawin expands into Singapore
The team will be led by Clement Simonneau, former sales director APAC at Art of Click.
Mobecom partners NETS to offer Singapore-wide loyalty program
Consumers can earn airBux as a cashback digital currency reward when they redeem an offer, make a purchase or order a meal.
ONE Championship boosts leadership team with new hires
More here on the appointments.
Cognito names regional MD for APAC
He replaces Tim Williamson, who recently joined WATATAWA Consulting as MD.
Brand content agency ZORBA launches in Singapore
Sandra Hassler, GM, ZORBA Asia, will be leading the team.
SelectMedia names APAC MD
Based in Singapore, Correya will oversee operations and strategic expansion across Asia for SelectMedia.
Williams Lea Tang names new COO
She will be responsible for solutions, operations and creative production services in the Asia Pacific region.
Polycom Inc appoints communications and branding lead
Cullinan will be responsible for leading global external communications and brand strategy for the company.
NTUC Link partners with Google to launch Android Pay across stores
Over two million Plus! members can earn LinkPoints by tapping their Android devices at over all NTUC FairPrice, FairPrice Xtra and FairPrice Finest outlets.
W Asia bags Bang & Olufsen PR account
W Asia will continue to reinforce B&O PLAY's lifestyle credentials.
PSB academy names senior manager of marketing and corp comms
Ong was previously the sales and marketing director at Singapore Discovery Centre.
Changi Airport Group strikes exclusive ad partnership with JCDecaux for Changi T4
The offerings open with an exclusive takeover by healthcare solutions provider Mundipharma.
MP & Silva names Seamus O'Brien as new president and group CEO
He takes over from Jochen Lösch, who becomes a senior consultant to MP & Silva.
LoopMe expands to Asia Pacific, opens Singapore office
Some brands which work with LoopMe include Adidas, Shiseido, Marina Bay Sands, Lazada and Zalora.
Republic Poly targets market research professionals with new programme
Co-delivered by RP and MRSS, the programme intends to help market research and marketing professionals develop skills for improved decision making to discover new business opportunities.

Mongoose Publishing hands IMV Esquire SG licence
Indochine Media Ventures will be taking over the licence effective 1 November 2017.
Skechers unveils shoe line featuring K-Pop ambassador Zico
A hologram video projection showing a 3D video of the DLT-A shoes, along with a wall mural at Dhoby Ghaut station in Singapore.
Ziff Davis expands lead generation business into SG
Regional director Michael O'Donnell will be managing the local team.
Singtel and Ericsson establish centre of excellence for 5G development
The centre of excellence aims to spearhead the development of Singapore's 5G mobile network infrastructure to support future Smart Nation initiatives.
Unruly partners MediaCom to gain cultural insights of global consumers
The partnership serves to help brands understand the different cultural preferences of consumers around the world.
NBA expands reach into Asia with Rakuten partnership
As part of the partnership, Rakuten will be the global marketing partner of NBA.
BBC launches new luxury unit "BBC Designed" online
The new supersection will focus on four areas of editorial: dress, dwell, drive, and device. Read more here.
Dentsu's Female Foundry initiative for female-founded startups returns
Female Foundry is launched in partnership with non-profit organisation Female Founders and innovation festival West Tech Fest.
PropertyGuru Group appoints new COO
Williams reports to Hari Krishnan, CEO, PropertyGuru Group.
IPG Mediabrands strengthens data capabilities with Acxiom partnership
The global partnership covers 14 markets including China, Japan, India, Australia, US, the UK and Canada.
ACMA relaunches to transform content marketing in APAC
Members that have come on board at the time of launch include Allison + Partners PR, MEC Wavemaker, Publicis Content, Bloomberg Media, Click2View, Isentia, LinkedIn and Text100 PR.
Facebook IQ and SECTION launch new insights tool
The new insights tool enables businesses to find and reach new audiences by comparing country data based on past campaign performances across Facebook, Instagram and Audience Network.
Touch PR & Events hires new GM
Kan brings more than 15 years' experience in professional in-house marketing communications.
Isentia appoints marketing manager for Asia
Prior to her latest role, Kwong was the business operations and marketing executive at Isentia for over two years, according to her LinkedIn.
Chimney restructures advertising and content division, hires new lead
The restructure allows brands and agencies to work with dedicated teams depending on the post-production and production services required.
Singapore Red Cross unveils "Ella" chatbot to help the elderly living alone
Ella is an example of how technology and Facebook chatbots, specifically, can potentially be used in social service to help those in need.
MediaCom names Charlotte Goddard head of business development
She reports to Mark Heap, CEO, Asia Pacific, MediaCom.
lululemon aims to redefine masculinity with global "Strength to Be" campaign
"Strength to Be" runs online, social media and in-stores through 31 October.
Tiger Beer partners with SBTG to commemorate NS50
The t-shirt featuring SBTG's distinct militia-inspired style, unites two distinctively Singaporean elements - National Service and Tiger Beer.
Mindshare wants to harness the creative thinking of at-risk children and adults
The campaign aims to help them develop conceptual thinking skills which in turn help boost their self-esteem.
Diageo and Untitled Project unveil mobile app to print custom labels for Johnnie Walker
This follows the roll-out of the VR experience for another one of Diageo's alcohol brands, The Singleton.
MP & Silva appoints Chris Lencheski to head global sponsorship division
Lencheski will be based in New York.
AKQA acquires majority stake in digital agency DIS/PLAY
Collectively, in Scandinavia WPP companies (including associates) generate revenues of almost US$500 million and employ over 2,500 people.
Meltwater acquires real-time data analytics platform Algo
Founded in 2015 by Matt Michelsen, Aaron Rama and Evon Onusic, Algo leverages machine learning and natural language processing to democratise online semantic data.
Unilever's Knorr dispenses free salted egg snacks in OOH activation
This was done in collaboration with Mediacorp OOH Media.
Helix PR names general manager
She will be responsible for overseeing the management of the agency's public relations and maritime crisis accounts.
Lenovo Data Center Group picks agency for marketing duties
More on the appointment here.
313@Somerset appoints agency for social media duties
The appointment will be for one year.
Tickled Media expands leadership team with three new hires
This is in a bid to ramp up its presence in Asia Pacific.
Grey Group acquires digital agency in the Middle East
The agency was founded in 2009 and employs 145 full-time staff members.
nessa Asia launches campaign to support hearing-impaired SAF veterans
Promotions for the fundraising campaign, which will run tentatively until the end of September, are carried out via Facebook.
Butter brand SCS unveils new look and logo
This comes as the brand prepares to have a more future-ready identity.
XCO's WINK+ collaborates with Nielsen to offer cost effective ways for research
With the platform, companies can create short on-the-go surveys in which users can participate to get WINK+ points.
Andaz Singapore appoints director of sales and marketing
More on the appointment here.
Carlsberg counts down to smoothest hour with OMD and Clear Channel
The campaign aims to "combat the heat on our sunny island".
Dentsu Aegis Network acquires Sokrati, launches Merkle in India
According to the press release, this is the first launch of the global data-driven performance marketing agency in the Asia Pacific region.
Pernod Ricard hands Blue 449 media duties
Blue 449 wins the four-way competitive pitch, over incumbent Vizeum.
Here's who won the Grand Prix award at SPH iink Awards 2017
More here on the list of winners.
PubMatic expands programmatic team
PubMatic has appointed Cameron Dinnie as customer success director for the Asia Pacific region.
Pandora glams it up on social media with KRDS Singapore partnership
The partnership will help Pandora inspire and empower more women with their jewellery.
BBC Advertising bolsters programmatic team
The role is newly created within the regional advertising sales team.
Coleman Japan appoints Geometry Global Japan as brand agency
The agency will be in charge of developing and planning creative communications and strategies.
Martell partners JCDecaux to target Chinese travellers
The campaign uses Dynamic Solution and WeChat Shake Solution, an application popular with Chinese.
Royal Caribbean's virtual reality experience hits the deck
The campaign, which is in line with its 10th anniversary, was conceptualised by iris Singapore.
XCO launches use of eco-friendly OOH advertising
The XCO is working with local SME large-format printer Film Screen on this initiative.
SAP Asia Pacific Japan names new president
Russell was previously president and managing director for SAP Southeast Asia.
Resn Shanghai names head of production and strategy director
Jonathan Hawke joins as head of production while Ramzi Chaabane takes on the role of strategy director.
Philips fires up with "Saved by the Grill" campaign
Created by global creative network, iris Singapore, the campaign features three 30-second films.
Atout France appoints PR and social media partners
The appointment commences in July 2017.
Indochine Media names digital editorial director
He will continue to helm Buro 24/7 Singapore while providing strategic counsel to Robb Report Singapore's digital team.
[m]PLATFORM names global chief strategy officer
She will play a central role in ensuring clients are able to apply data driven insights throughout their communications campaigns.
foodpanda launches OOH activation to celebrate 5th anniversary
The campaign was aimed at PMEBs and heartlanders by transforming the OptiMaX trucks into mobile food kiosks
50 NS-themed buses running around SG with 1.8m tall "mobilisation man"
The "mobilisation man" is an icon, closely associated with Operationally Ready NSmen.
Integral Ad Science and Facebook expand partnership to improve transparency
The partnership is hot on the heels with IAS' recent partnership with Snap to review its protocols.
Grapeshot names APAC marketing director
Prior to Grapeshot, she held several senior marketing and communication positions at Arcserve, Intuit and Acronis.
CNN makes two new appointments in APAC region
Zab Ali has come on board as digital director, North Asia and Delilah Chan as sales director, Southeast Asia.
GODIVA appoints PR partner for Singapore
The agency will collaborate with GODIVA on media engagement and influencer relations.
Publicis One Indonesia names chief strategy officer
The appointment will see him oversee the strategy function across all agency brands in Publicis One Indonesia.
VIVO and Y&R team up to launch campaign for a "Perfect Ramadhan"
The spot, airing on TV and via social media, has attracted over 5 million views on YouTube.
Publicis One Vietnam launches Prodigious Brand Logistics
Prodigious will offer its services across Publicis One's agencies Leo Burnett, Saatchi, Publicis, Zenith, Starcom, Performics and MSLGROUP, as well as to direct clients.
Cycle & Carriage partners with IKEA for "masked" test drive campaign
The test drive allows customers to judge Citroen's C4 Picasso's level of comfort based solely on their experience.
TIBCO names Alan Ho as director of marketing
In his role, he will be developing and reinforcing TIBCO's overall brand development and messaging within Asia.
H+K Singapore nabs former Havas Media's head of digital
He has helmed award-winning campaigns including Singtel Hawker Heroes, Singtel Omni Channel Retail Transformation Project, and Skype Experiential Showcase.
SilverNeedle Hospitality Group acquires Brand Karma
In addition, it has also rebranded its hotel management division as Next Hotels, formally known as SilverNeedle Hospitality.
R3 elevates Seema Punwani to partner role
She has led global initiatives for clients like MasterCard, Economic Development Board of Singapore, Fonterra and Suntory amongst others.
Lazada and Samsung sign first regional deal
The expanded partnership marks the first ever regional contract between both parties spanning six countries including Malaysia, Singapore, Indonesia, Thailand, Vietnam and the Philippines.
Havas Group acquires Sorento
This strategic acquisition will allow Havas to further develop its regional presence and add to its depth and breadth in India to deliver for global clients.
Nielsen to now measure Twitter mobile campaigns in 23 markets
Through Digital Ad Ratings, Nielsen will now provide independent audience verification metrics for campaigns on Twitter's mobile app globally.
Digital media company GRVTY Media brings together six online publications
The six media brands have a combined reach of over eight million individuals monthly on social media.
Outbrain appoints Sandeep Balani to newly created role
He will report to Chris Mockford, head of operations in APAC at Outbrain.
Cvent opens new offices in Singapore and Australia
Both offices will employ sales and customer service professionals for both the event and hospitality sides of the business.
Fiji Airways hands Marc Cavaliere CMO role
Cavaliere joins the airline's executive leadership team, reporting directly to the CEO.
CYC Custom Shop rebrands with the help of DIA
The rebrand was done to keep up with changing consumer mindsets and preferences.
Allianz Global Investors launches lenticular installation at Ocean Financial Centre
This was done together with iNNN Creative Solutions, Carat Singapore and SPHMBO.
ONE Championship partners GoDaddy
GoDaddy branding is set to be featured at ONE: DYNASTY OF HEROES which will take place at the Singapore Indoor Stadium on 26 May.
Hootsuite launches social ROI measurement solution and services
This follows its acquisition of social analytics company LiftMetrix in February 2017.
C?c C?c uses "Incognito mode" to raise awareness on Alzheimer's disease
The campaign, called "The Forgetting Tab", was conceptualised by Isobar Vietnam.
Isentia launches new app for real-time insights
The app provides personalised notifications and media reporting capabilities.
Lifetime Asia link up with Singaporean entertainment platform Viddsee
Lifetime will expand its signature Lifetime Original Movies offering by including Viddsee's curation of stories that celebrate the transformative experiences of modern day women.
LEGO launches #BuildAmazing SG campaign
The LEGO Group is also launching five exclusive Singapore Food Culture mini-builds.
OMD makes appointments to strategy team
He has extensive experience across the globe, having worked for OMD in the region as the strategy lead for OMD APAC as well as the global VP of marketing for HTC.
TIBCO partners with Mercedes-AMG Petronas Motorsport
As an official team partner, TIBCO will provide the team with expertise in the area of advanced analytics through the TIBCO Insight Platform.
MEC India appoints new chief digital officer
He will be based in Mumbai and will report to T Gangadhar, managing director, MEC South Asia.
MEC Vietnam appoints head of strategy and business director
More here on the appointments.
Sizmek appoints general manager for APAC region
He will be responsible for managing the company's operations across the Asia-Pacific region, including customer engagement, sales development and innovation, strategic planning, and revenue growth.
YTL Hotels launches new direct booking portal, targets Singapore travellers
This brand new online portal will serve as an extension of YTL Hotels' belief.
Isobar adds WiTH Collective under its umbrella
This following its September 2016 acquisition by Dentsu Aegis Network. 

iris opens news office in Bangkok
iris Bangkok will be working with existing global iris clients such as Philips and Shell, as well as regional clients including Chang Beer.
SPH eyes healthcare sector with SG$164m Orange Valley acquisition
This was done through its wholly-owned subsidiary, Invest Healthcare (IHPL).
Oracle and LinkedIn unveil new product integration
The integration will allow marketers to enhance their account based marketing strategies.
How Chinese radio station UFM100.3 created a carnival feel OOH
An LED truck was bedecked in UFM100.3's colours and logo.

Paypal extends partnership with Google
More here on the partnership. 
Dentsu Aegis Network makes acquisition of Indian digital performance group
The addition of SVG Media will further strengthen the Group's leading search position in the market.
Samsonite showcases new luggage range with OOH execution
The campaign is in collaboration with SPHMBO, and is set to run for four weeks.
United International Pictures gets on board with JCDecaux
It is advertising its blockbuster, Fast and Furious 8.
VML Singapore names new lead for new Centre of Excellence initiative
Lim will be based in Singapore and will report to Oliver Eriksson, head of global advisory.
Philips Lighting names cluster leader for Malaysia and Singapore
He will report to Patricia Yim, market leader for Philips Lighting ASEAN Pacific and also handle export markets.
Outbrain promises publishers real-time tracking of revenue value of content
Outbrain will launch a paid-for solution that provides proprietary insights into all aspects of a publisher's revenue, not just Outbrain revenue.
Sephora's colourful makeup dispensing machine hits the street
The campaign will run until 12 April 2017.
Have you seen Puma's peel off sticker campaign?
The campaign targets commuters from the age of 16 to 23 years old.
Mediacorp OOH Media and Dove collaborate to create full sensory experience
The Extivation included a shower area and two portable sinks.
Independent agency BRCKTS bags two new clients
These clients include dental clinic i.Dental and F&B brand Jing Hua Xiao Chi.
New merchants join WINK+ platform
New partners include Ez-buy, Eleven Sport Network and Miniso.
Singtel partners NYP to help SMEs in the retail and F&B sectors
SMEs can also seek additional support on social media marketing, online merchandising and analysis of online consumers from students and lecturers at the NYP's customer experience and analytics centre.
Cloud management provider etouches acquires Loopd
The acquisition follows the company's move to a data-driven approach to enhancing clients' event success.
Redhill expands into San Francisco
Redhill has also made strategic hires to further its growth in the Southeast Asian region.
IMG names Robbie Henchman SVP of International strategic partnerships
Previously SVP and head of IMG's Asia Pacific business, Henchman will retain oversight of his regional teams in Australia, Japan, South Korea and Southeast Asia this new role.
JCDecaux expands ION Orchard OOH offering
One brand which has already jumped on board is Van Cleef & Arpels.
Bacardi-Martini Australia picks PR agency
The agency would begin work immediately across strategy development, creative, execution, partnerships, influencer relationships and experiential platforms.
Corvi LED hands media duties to MEC India
MEC won this account after a multi-agency pitch.
Robb Report Australia bolsters senior team
More on the hires.
Xaxis names new EVP of global products
The new Global Products unit will work across Xaxis and all its specialist brands.
Marriott International names communications VP for APAC
Alethea Lam will be based out of Marriott's Asia Pacific continent office in Hong Kong.
Refuel4 launches Ad Analyzer
SHAKA predicts the ad's future performance.
Tapad hires Andrew Tu as APAC VP
Tapad's APAC team is currently headquartered in Singapore with plans to expand into Japan and Australia in the coming months.
Singapore Rugby 7s partners StubHub for secure ticketing experience
Tickets once purchased will be directly sent to the buyers' email inbox.
BBC Worldwide sells 500 hours of factual content to JTBC
The deal covers BBC's premium natural history, science and documentary content which will now be available on one of the country's newest cable TV platforms.
Bosch partners WWF to encourage sustainable seafood consumption
Bosch Home Appliances will introduce a two part campaign guiding consumers towards simple undertakings that would allow them to enjoy sustainably-sourced seafood, even at home.
Landor Australia and Designworks Australia merge
The combined business will be led by Dominic Walsh.
Tiger Beer makes a big move over CNY holidays
The media agency is Starcom Media Worldwide and creative agency is BBDO Singapore.
Hootsuite ramps up ad capabilities acquiring AdEspresso
AdEspresso is a Facebook global ad partner.
HOOQ hires former BBC Worldwide CTO
Fleshman will lead the charge of the strategic planning and development of HOOQ's product and platform.
MP & Silva names new chief commercial officer
Cho, who joined MP & Silva in 2008, has been promoted from managing director, Japan and Korea.
Moove Media adds on Moove Big Top bus
The Moove Big Top bus has a U-shaped aluminium panel.
Integral Ad Science appoints new MD of SEA
Based in Singapore, Hogan is charged with strengthening the presence of IAS in the region.
BBC Worldwide strikes licensing deal with Amazon India
This follows the launch of Amazon Prime and its Prime video streaming service last year.
Alibaba Cloud partners with NUS and EZ-Link
Alibaba Cloud will contribute US$500,000 in cloud credits towards the use of its cloud platform and data centres by students and researchers from NUS for academic and research purposes.
Otterbox on branding push with the help of SPH and Ogilvy
Otterbox is running a campaign on SPH's digital screens at Chevron House and 313@somerset with effect from today until 22 January.
Visual Amplifiers launches offices in Singapore and Hong Kong
VAMP has worked on campaigns for major brands including Samsung, Uniqlo, eBay, ASOS, Arnott's, Swisse, Rimmel, Kelloggs, MasterCard, Campari Group and many more.
Pernod Ricard Singapore lights up Clarke Quay
This campaign is ongoing until 1 March 2017.
EZ-Link introduces NFC enabled card readers
In March 2016, EZ-Link launched the EZ-Link NFC SIM, pioneering the use of compatible mobile phones with NFC technology for making public transport payments.
Singapore Festival of Fun kicks off with the help of STB and Nickelodeon
This is  from 11 to 19 March 2017.
Singapore Management University enlists help of Redhill PR
This is for the 2017 Lee Kuan Yew Global Business Plan Competition (LKYGBPC).
Yeo's goes tropical with Moove Media
The creative agency involved was Go Big while the advertising agency was City Life Advertising.
AXA launches mobile phone safety campaign with XCO Media+
This was developed in partnership with Nano Rock Global.
Singapore Kindness Moves takes a truck for spin
The truck offers the public a chance to do a kind deed.
MCI looks to beat diabetes with OOH activation
The governing entity joins the likes of MOH and HPB in championing Singaporeans to take control of their health.
Chang Beer and Singtel Media push forward in the football season
Chang Beer is the latest broadcast sponsor to come on board for Singtel TV's Premier League Season 16/17
Dentsu Aegis Network acquires India experiential design shop Fractal
Fractal will join DAN's digital agency Isobar and be rebranded.
Cisco Systems makes campaign push with new JCDecaux digital murals
The Digital Murals are designed to capture the full attention of all arriving and departing passengers.
R/GA and Uber look to personalise brand experiences
How has you year with Uber been ?
Moove Media lights up buses for Christmas
The latest advertiser to jump on to this bus is Watsons.
Amobee names global innovations lead
Chu will be charged with leading Amobee's new product offerings that are driven by and utilise telecommunications operator assets.
CNBC and Alibaba partner up for new business entertainment show
The series will follow 12 aspiring manufacturing entrepreneurs who go head to head to win a £20,000 cash prize.

HOOQ names country manager for Singapore
D'Oliveiro has worked for Telstra Australia and Astro Malaysia in the past.
Amnet and RadiumOne partner up
The partnership will see RadiumOne's proprietary mobile and sharing analytics software deployed across Amnet's clients, complementing existing technology to fuel paid media effectiveness.
Bloomberg Media brings mock "newsroom" to life in OOH activation
The activation aims to connect viewers to a global network of business news and information.
Marigold's Peel Fresh bursts out sprinkle of freshness
This campaign is ongoing till 7 December 2016.
Lotame connects digital audience data to broadcast TV
Lotame helps analyse what the prospective advertisers' key audiences are watching.
Hyundai cars flaunt their dynamics all around town
On weekends, the Mediacorp OOH truck will be morphed into a mini-laboratory.
Bell Pottinger adds a new partner to its ranks
Fu has over 18 years of financial communications experience.
Micro-influencer platform makes debut in Singapore
The portal is currently home to more than 5,000 micro-influencers.
AirAsia paints Singapore red with latest campaign
The campaign would last till January 15th, 2017.
Epsilon Asia Pacific adds digital experience role
He joined Epsilon in 2015, most recently served as vice president of digital, Asia Pacific.
SMRT creates a dedicated Joseph Schooling train
The concept train consists of three cabins – The Pledge Cabin, The Book Cabin and The Exhibition Cabin.
Freeman launches brand experience agency in China and Singapore
The global provider of brand experiences has integrated several of its creative services across the Asia Pacific region, including China and Singapore, under the company's agency division, FreemanXP.
Impact Radius opens doors in APAC with new MD appointment
More here on its plans.
Criteo appoints Elie Kanaan as EVP of marketing
He has 25 years of experience in the marketing and technology.
Amplifi names new president for ANZ
Brown joined Dentsu Aegis Network in June 2015 as Media Group chief financial officer.
Sitecore appoints The Hoffman Agency
The appointment comes as Sitecore plans to further establish its presence in this region and meet the ever increasing digital marketing needs of brands with context marketing.
HPB launches ad activation to take the right steps against diabetes
Called "Let's Fight Diabetes", it features an out-of-home activation at XCO Media+'s platform dominance at Outram Park.
Macao Tourism looks to lure Singaporean visitors
For a higher level of engagement, a stick peel-off contest is also being organised.
MP & Silva names new CEO
Losch has almost 20 years' experience in executive positions in the international sports industry.
Ambient Digital Group makes regional promotions
Ambient Digital Group also has offices in Vietnam, The Philippines, Indonesia and Thailand.
The BBH network opens Delhi office
BBH's first office in India, BBH India (Mumbai) launched in 2008.
Singtel partners Akamai Technologies to bolster cyber security
These services will be made available to Singapore enterprises first, followed by the regional markets in Asia Pacific.
LTA brings back the Thoughtful Bunch
This is the first time the characters are greeting the commuters in larger than life 3D format.
JCDecaux takes off with new airport advertising options
This is done through the inclusion of new large panoramic lightboxes.
Light Reaction hits Vietnam
Light Reaction's products are channel agnostic.
McCann Worldgroup Japan appoints new CCO
Antony Cundy will be responsible for overseeing excellence in the targeted and efficient delivery of campaigns for clients who work across multiple MWG disciplines.
Jack's Place rolls out family campaign
This is to to mark its 50th anniversary.
Grab brings on board Silvercab
This is Grab's second partnership with a local taxi operator.
Redhill Asia gets new regional account lead
He was previously from The Butchers Club, where he was the PR & marketing manager.
Shell's new Fuelsave campaign hits the roads
Shell has engaged XCO Media+ Optimax truck for its fuel save "Live Life Full-On" campaign to promote its fuel efficiency benefits.
Philips recreates living spaces to encourage use of its home appliances
The centre hopes to bridge the gap between the on-line and off-line worlds.
MullenLowe Vietnam brings in new executive creative director
He previously worked with OgilvyOne Vietnam and was responsible for integrated and digital engagement campaigns.
Perx hires ex-SAP Malaysia country sales head
With these, Perx's intelligent customer engagement solutions will reach a substantial number of enterprises in the Asia Pacific
Dentsu media unveils new lab in Vietnam
This innovation unit aims to harness the latest technology and create new digital experiences for the market.
Marketing recruitment firm Font undergoes rebrand
Salt, a world-leading digital recruitment consultancy, has acquired a stake in Font.
Fitness First Asia achieves over 90% impression share online
SearchGuru said it has helped Fitness First Asia in strengthening its online footprint and conversions from online-to-offline.
Dentsu Aegis Network takes an interest in Perfect Relations
Perfect Relations Group services companies such as Coca-Cola, Nokia, Airtel and Honda across diverse sectors.
Facebook hires country head in Thailand
In his role, Wagner will focus on driving greater value and support for international and Thai businesses
Polar Puffs & Cakes celebrates 90th birthday with new face of the brand
This is in celebration of its 90th anniversary and the debut of new products.
Octagon acquires majority stake in content firm Milkmoney
Milkmoney develops content for brands including Red Bull, Disney Channel, Sony, Destination NSW, Diageo, Mastercard and Hyundai.
S4M looks to help clients with anti-fraud ad serving tech
According to the company, this is a significant development following the company's recent MRC accreditation.
Meclub lures members with feasts
This is a new subscription-based wine-and-dine feature.
Weber Shandwick buys into Flipside
Terms of the deal were not disclosed.
JCDecaux strikes new advertising partnership with Suntec City
This is in a bid to expand its advertising footprint in Singapore.
Havas Media Group's Indonesia CEO SK Biswas steps down
Havas Media Group has promoted Anwesh Bose, the current managing director of the agency, to CEO role for Indonesia.
Havas Media's SK Biswas joins Dentsu Aegis Network Indonesia
Dentsu Aegis Network Indonesia has appointed Havas Media Indonesia's CEO SK Biswas as COO.
Mediacorp transforms its truck into an Air New Zealand flight
The exterior of the truck was painted black with #AirNZonTour's main message printed at the sides.
Vizeum opens up new office in Vietnam
The new office will be led by Navin Dhanpal, newly appointed managing director of Vizeum Vietnam.
Isobar India names new VP
Clients under his belt included Nokia, Cisco, British Airways, Perfetti, American Express, and Samsung.
AdAsia Holdings creates new influencer marketing arm
CastingAsia will be integrated into the growing AdAsia Digital Platform portfolio.
Kayak.sg gets PR help as it expands regionally
The appointment comes as Kayak set its sights on continuing their expansion in Singapore and Asia.
Refuel4 launches AI product to help SMEs
This is to tackle the problem of ad fatigue.
Salesforce names new GM
Previously, Innes was Salesforce's senior vice president of enterprise business in APAC.
AdAsia Holdings launches new video inventory service
AdAsia Consultants are also available, to help marketers with their programmatic and video production initiatives and usage of the platform.
Ogilvy Public Relations Australia appoints new director
In this new role, he will oversee the consultancy's social, content and digital practice - Social@Ogilvy, and will lead the Microsoft account as the key client relationship manager.
Adknowledge announces country head for India
He has over 20 years of experience in building and scaling businesses and brands, defining strategy, and running operations for companies.
WWF and Toyota head towards a zero carbon society
The project will take place in WWF priority places such as Borneo and Sumatra. In the future, the project will expand to the Greater Mekong region.
Moove Media and Jetstar team up for a hands-on experience
This is part of Jetstar Singapore's latest "Tourism NT" campaign.
Big Mobile names new group CEO
David Green replaces Graham Christie's role of group CEO.
iFashion Group acquires Dressabelle for SG$7.5mln
Dressabelle has an annual revenue run rate of SG$3.24 million.
Auckland City Mission highlights the life of the homeless
Shot from the perspective of one of Auckland's homeless.
Lindeman's and JWT captures happy moments
Here's a look at what makes people smile.
SPHMBO relaunches new LED screen at 313@somerset
The original LCD video wall, which has served its useful life, has been replaced this month by the new LED screen.
PropertyGuru launches virtual showroom experience
The public could experience the Virtual Reality Showroom inside the truck at One Raffles Place, Century Square and Jurong Point.
Outbrain renews multi-year deal with SPH
With the extended partnership with SPH, Outbrain continues to demonstrate significant momentum with its publishing partners.
Data2Decisions opens new office in Japan
New office extends Data2Decisions' coverage in APAC which includes Australia and Singapore.
iProspect partners up with Sprinklr
Sprinklr and iProspect will enable brands to create relevant, meaningful experiences for their customers.
Dreamworld appoints new creative agency
The appointment has effectively commenced as of 1 July.
Chimney Group Australia appoints new managing director
Thorp takes the Sydney-based top job following a career running TV and radio stations across Europe.
iProspect Singapore's regional MD takes on chief data officer role for DAN
Zohrab joins from iProspect in Singapore, where he was regional managing director of Digital Technology Operations.
NTUC FairPrice hosts first ever Facebook Live event
Food channel, co-owned by NTUC FairPrice, and operated by content marketing agency Brand New Media, will be hosting its first Facebook Live event entitled Live Healthy, Eat Healthy.
Outbrain partners up with Mediacorp
Outbrain will aggregate Mediacorp's coveted audiences with those from its previous local publishers and global site wins.
SPT Networks Asia appoints VP of sales
Nirav Haji has been appointed as VP of affiliate sales.
Viu launches premium subscription with Singtel
Viu has forged strategic telco partnerships with networks across the region.
Singapore Airlines creates stir with a 3D hot air balloon
This is in conjunction with new flight routes offered by the national flight carrier, including the Singapore-Canberra-Wellington route.
SK-II and SPHMBO collaborate on "Dream Again" campaign
SK-II has partnered with SPHMBO to launch its one-day "Dream Again" campaign at Singapore's Raffles Place.
A campaign to make you see the person beyond physical disabilities
The campaign aims to change the mind set of Singaporeans towards people with disabilities.
Americaneagle.com to penetrate Asian market with SmartOSC partnership
Both companies are expected to collaborate on larger international projects in the Asia Pacific markets.
Himalaya Herbals lures consumers with flowery new ad
The Himalayan Herb-themed train runs from now until mid-July 2016.
Independent agency Dog appoints senior digital strategist
Dog has appointed Will Railton as its new senior digital strategist for Asia Pacific region, based in Singapore.
Twitter launches #Stickers
This is a new visual spin on the hashtag.
Google releases heroic new Bollywood spot
The spot epitomises hopes, dreams and magic.
L'Oreal Paris Singapore employs star power
L'Oréal Paris Singapore has launched an interactive out-of-home (OOH) panel featuring brand ambassador and local celebrity Rui En.
Maxus Thailand names head of digital
GroupM's Sirirat Tosamphanmongkhon is hired as head of digital.
Emarsys adds on products to its mobile offering
Emarsys launched its mobile suite to enhance mobile app engagement catering to consumers.
Taptica expands into Korea with new office
Taptica expanding into South Korea with new office to advance strategy of increasing presence in APAC.
SOFY gets fresh with the help of JWT
The agency was tasked with creating a campaign for SOFY's new patented Clean Barrier Technology.
Sunsilk fits mirrors around bus stops to promote great hair
Passers-by can check their hair during the course of the day, to see if it is still as fresh in comparison to when they first started the day.
Frucor Beverages' appoints new media agency
Frucor Beverages is a foundation client from OMD's entry into the Australian market back in 2000.
SPHMBO shows off latest OOH offering in VivoCity
Since its inception, the digital advertising network has played host to Seiko, Rado and Walt Disney's Finding Dory, which will be screening in local cinemas later this month.
Near adds audience cloud capabilities
Allspark has been available in beta to select marquee customers across geographies.
Kenzo gets in touch with consumers with the help of JCDecaux
As part of the strategy to drive product purchase, Kenzo brand ambassadors are also giving away special treats.