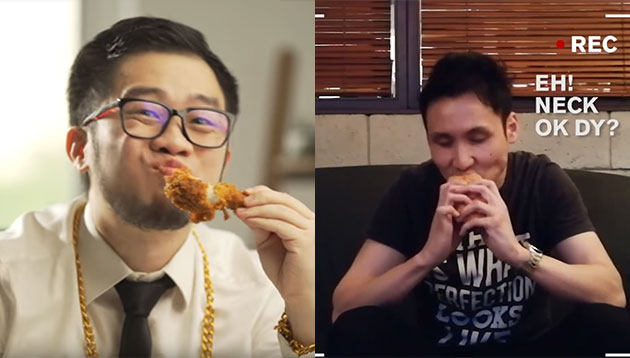 McDonald's Malaysia has released a video featuring Ah Tan, a protagonist who unfortunately has the word egg (tan) attached to his name.
According to Ah Tan, he doesn't usually eat "tans" (eggs) during Chinese New Year because it is inauspicious. But being tempted by a golden egg this year, he couldn't help himself.  These golden eggs, popularly known as "The Golden Egg Crunch" as we all know, are produced by the creative folks at KFC. Ah Tan, unable to help himself, ended up in a series of unfortunate events while purchasing these eggs. Check out his sad story here:
The war first started when KFC took a shot at the McD's Prosperity Burger on social media. The ad started with a voice-over of, "Let's celebrate the return to even more prosperity with..." where the protagonist is seen first holding a Prosperity Burger and then throwing it out for a "Golden Egg" drumstick.
https://youtu.be/WwAmZI1_Tn4
Clearly returning the jibe to KFC, we asked McDonald's marketing director Eugene Lee his through process behind the campaign. He admitted that the ad was simply a "fun response" to the original KFC ad. But of course at the same time, Lee and his team wanted to continue to keep the Prosperity Burger top of mind for consumer. After all, it has been in the market for over 20 years.
"McDonald's usually does not talk about competitors products. However, the 'creativeness' of the KFC ad inspired us to do one of our own. The Prosperity Burger has been a Malaysian institution for over 20 years. It was created by Malaysians, for Malaysians."
This is not the first time we've seen the two brands go to war. Last year, KFC Singapore introduced an improved version of its long time Cheese Fries dish, hot on the heels of the furore over McDonald's Cheesy Unloaded Fries which failed to meet real life expectations.
In the Facebook post, KFC Singapore cheekily touted its newly improved to be "the real deal", using the hashtag #KFCRealCheeseFries. Since its posting on Friday, the video has garnered over 10k views, 446 reactions, 125 shares and 88 comments.