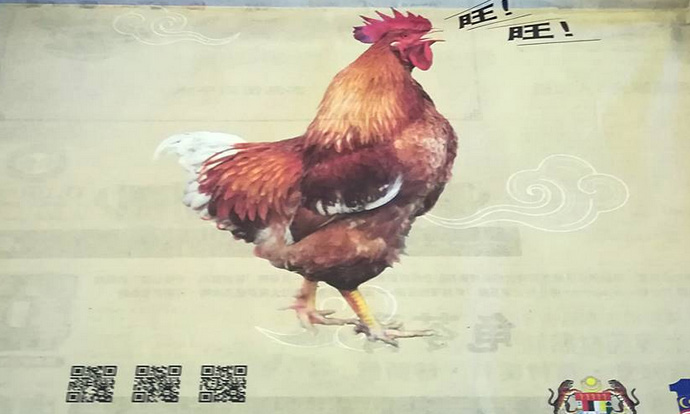 While many said goodbye to the year of the rooster and welcomed the year of the dog over the long Chinese New Year weekend, Malaysian government officials from the Domestic Trade, Cooperatives and Consumerism Ministry (KPDNKK) seemed to be stuck in 2017.
Splashed across a major newspaper was an ad which showed a rooster "barking" using the word "wang" which is typically used to represent a dog's bark in Mandarin. The word also doubles up for "prosperity".
Ministry's CNY ad features 'barking' rooster https://t.co/cmt9gOrEs1 Under BN , rooster can bark. Next year, it can grunt and oink. This is why Msia must Ubah in 14GE! pic.twitter.com/0YqPo4rZQD

— Lim Kit Siang (@limkitsiang) February 15, 2018
https://twitter.com/cheeChingy/status/964072541957402625?ref_src=twsrc%5Etfw&ref_url=http%3A%2F%2Fwww.bbc.com%2Fnews%2Fworld-asia-43105168
The KPDNKK has since apologised and said this was a "technical error" but did not elaborate what had caused it any further. While many netizens mocked both the ad and the apology online, others called out the apology saying it was probably not an "innocent error but one that has religious infusions."
Dogs have been long considered as "unclean" in the Muslim majority Malaysia. In fact, in 2016 popular pretzel chain Auntie Anne was "recommended" by the Malaysian Islamic Development Department's (JAKIM) to rename its "Pretzel Dog" to "Pretzel Sausage". This had stirred a online debate among Malaysians, particularly within its Muslim community.
Meanwhile, four years ago, an event called that "I want to touch a dog" which was initially launched in an attempt to dispel Muslim fears of touching dogs came under public scrutiny and global media attention that led to Islamic authorities intervening. According to Malaysian media, JAKIM was brought into watch the event as several religious leaders saw the event as an attempt to create a new lifestyle which could potentially hamper Muslim values and culture.