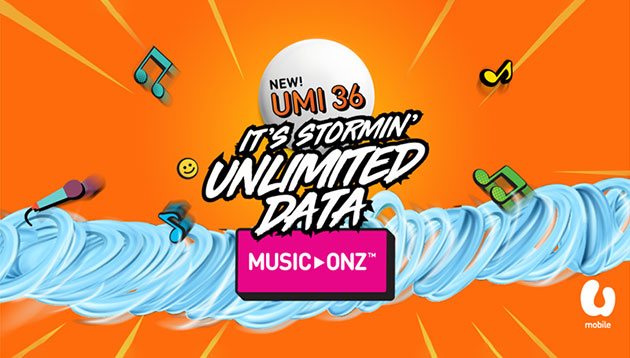 U Mobile has launched a campaign titled "It's Stormin', Unlimited Data" to promote its two new prepaid plans - UMI 36 and UMI 26. The objective of the campaign is to increase the number of new subscribers and also the average revenue per user, as well as reclaim the true meaning of being "Unlimited".
The Clan and production house Power Tank were involved in the campaign, which will be executed on radio, digital and social media platforms for approximately six months.
For radio, U Mobile will release a parody of a weather report announcing a data storm that is sweeping up social, chat and music apps. Eight contextual "how-to" videos explaining the different product offerings and one concept film will also be launched on YouTube and social media. Meanwhile on social media, the data storm will be used as a visual mnemonic device that sweeps across posts and ads.
Check out one of the "how-to" videos here:
https://youtu.be/jdvlm7BdTdY
The campaign comes after U Mobile appointed The Clan last year, to manage creative duties for its prepaid segment. A pitch was called last year, with several agencies vying for it including Ogilvy, Society and then incumbent BBDO, which held the account for about six years.
Read also: U Mobile names slew of agency partners for marketing services
Campaign credits:
Client: U Mobile
Agency: The Clan
Business chief: Syed Nasir
Creative chief: Casey Loh
Associate creative cirector: Edwin Lee
Creative head: Rudy La Faber
Account director: Sandra Heung
Account servicing(s): Katherine Tan, Alia Yazid, Jacelyn Soh
Copywriter(s): Amira Nabila, Nikke Ho
Designer(s): Meerna Faten, Shazanah Ibrahim
Production house: Power Tank