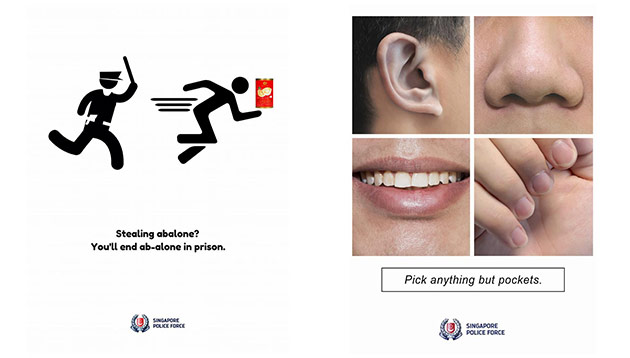 In line with the upcoming Chinese New Year celebrations, the Singapore Police Force (SPF) decided to sprinkle some puns into its social media strategy – a move which stole the hearts of netizens.
To discourage shop theft, the organisation uploaded an image on its Facebook page of a cop chasing after a thief who took a can of abalone. This was coupled with the caption "Stealing abalone? You'll end ab-alone in prison." It added that shop theft is a serious offence, punishable with an imprisonment of up to seven years and/or with a fine.
Since its posting Monday, the post garnered over 6,300 reactions, 2,519 shares and 484 comments at the time of writing. View it here.
The post came one day after SPF posted another punny post – this time discouraging the act of pick pocketing. In this post, four images depicting an ear, nose, teeth and fingers were juxtaposed next to one another with the caption "Pick anything but pockets".
The post garnered over 1,200 reactions, 1,088 shares and 253 comments at the time of writing. SPF's follow up social strategy was also strong; garnering 516 reactions to a comment it posted in response to someone asking what would happen if he stole someone's heart. To this, SPF advised the netizen to treat the person wholeheartedly.
This is not the first time the SPF has employed witty word play into its marketing campaigns. Just in March last year, it spoofed Mediacorp's Star Awards in anti-scam spot produced in Chinese. The spot was about an awards show called Black Heart Awards which recognises the best scams conducted by nominees whose names played on Chinese translations.
One month later, SPF showed its sassy side by taking a jab at a Criminal Minds episode which inaccurately depicted Singapore as a city with a hidden underworld scene. In its jab, SPF uploaded two pictures containing crime statistics which debunk claims of theshow. The Facebook post also saw the SPF pointing out Singapore' ranking in the Gallup's Law and Order 2016 report, along with the hashtag #CriminalMindsBeyondBorders. This left little room for potential debate over the post being directed at the show.