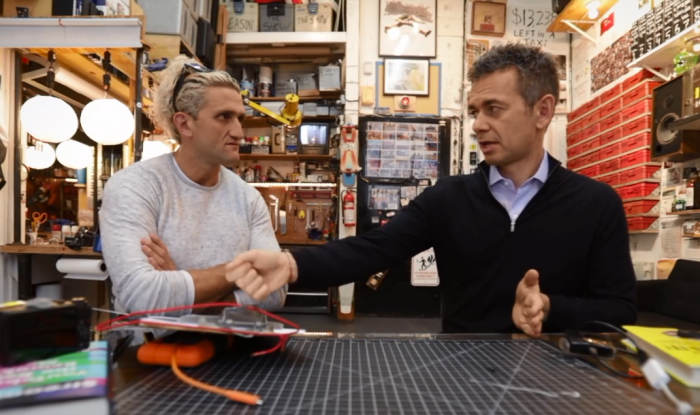 Renowned vlogger and entrepreneur Casey Neistat has uploaded an interview with Robert Kyncl, chief business officer at YouTube on the recent drama surrounding the platform. This was hot on the heels of the recent changes brewing at YouTube following the recent Logan Paul controversy.
The video started off with Neistat pressing Kyncl for the backstory on the recent Logan Paul controversy, which saw Paul's notorious suicide video making it to the front page of the YouTube trending platform. In response, Kyncl said that "there were no simple answers", except that there was a lot of interest in the video. He added that there were many searches for the video around the world on YouTube, which was how it landed on the front page.
When asked about what led to the delay of YouTube's official response regarding the issue, Kyncl said that while the organisation had a press reply in less than 24 hours, its response on social was delayed. On top of formulating its responses to the public, the organisation also had to consider the impact on the Original's productions Paul was involved in at the time.
"There are hundred of people involved - people whose pay cheques depend on it. So we didn't want to make a rash decision that impacted so many people's livelihood. It's not just Logan, but many others across multiple projects," Kyncl said.
That being said, he added that YouTube does want to become much faster and is currently looking at these processes to be more active in its response.
https://www.youtube.com/watch?v=ycuMyyqBWQY
The interview also covered the concerns surrounding the cultures being created on the YouTube platform. According to Neistat's personal observations, content which is sensational or "dramatic" has been something which is driving the culture of YouTube. Neistat said, "Drama is rewarded with views, drama is rewarded with attention, drama is rewarded ultimately with dollars."
Kyncl also said that creating the right incentives and disincentives for creators is something which the organisation is thinking about daily. He added,
"It's about doing the right things for the platform organically and not chasing sensationalism or chasing views for the sake of views, not using drama for the sake of views, and not using drama at our expense for the sake of views."
Kyncl added that the company cares deeply about the creator ecosystem and that if creators do not succeed, the company does not succeed either. As such, YouTube wants to ensure that creators who are making a living on YouTube feel safe doing so.
When asked about the type of creators YouTube would like to see more of on its platform which defines its creator movement and how YouTube would go about fostering that, Kyncl spoke about his personal preferences. This includes news, education content and having more female creators on the platform.
Balancing the "tensions" between creators, advertisers and YouTube
In the interview, Neistat was of the view that there is currently "a lot of tension" between the creator community and YouTube as a company. Addressing this point, Kyncl said that he wouldn't describe the exchange as one with "tension", but rather a situation which involves unhappy parties on the same side, figuring out how to fix problems.
"That would imply that we are on opposite sides somehow, and we are not. We are on the same side, but the thing that we have struggled […] is communication. You should know that we try so hard to communicate with creators, but it's always so disheartening to hear that it is not getting through," Kyncl explained.
Kyncl added that what YouTube stands for lies in four different freedoms – the freedom of opportunity, speech, information and the freedom to belong. He explained what is also important to YouTube is the success of its partners – both creators and advertisers, and bringing these communities together to ensure they all succeed.
"We may not get it right many times for one reason or another, but the intent is always good, the intent is to always be on your side so hopefully we can deliver more and more on that and make everybody even happier and more successful," Kyncl added.
Since its posting last night, the video garnered around 712,087 views, 125,000 likes and 4,000 dislikes at the time of writing. According to Neistat, the interview was filmed 12 days ago. As such, the comments by Kyncl were made based on the context of Paul's first suicide forest video, and not the developments and measures YouTube took right after in response to that.
Read also: 
After Logan Paul, YouTube tightens grip on video monetisation for creators
Logan Paul's latest suicide awareness video – just another PR play?