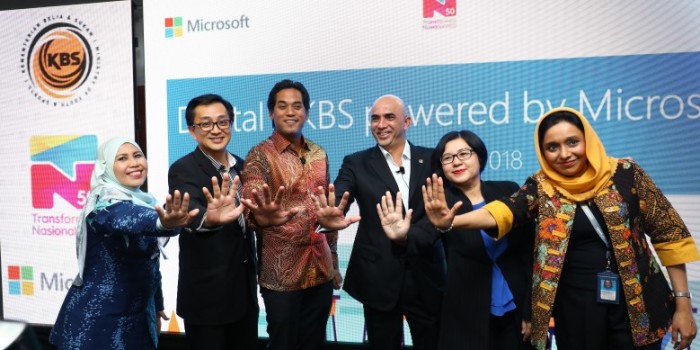 The Ministry of Youth and Sports (KBS) has launched a partnership with Microsoft Malaysia to introduce new technology in its Institusi Latihan Kemahiran Belia dan Sukan (ILKBS) technical institutes, to prepare Malaysian talents for Industry 4.0.
The Digital ILKBS initiative aims to develop future-ready human capital in response to the shifting global digital landscape by equipping educators and students with tools to enable better learning processes and outcomes. The initiative is reflective of the aspirations of Malaysian youth, which were collected during the Transformasi Nasional 2050 (TN50) Youth Engagement Initiative; where they would like to see a more interactive and practical approach to education, through a world-class system that prepares graduates for the challenges of the future; and have Malaysian institutions ranked in the top 10 globally.
As part of this collaboration, Microsoft technology and learning tools will be introduced in eight institutes under KBS, to students enrolled in the mechanical manufacturing course. The implementation will be rolled out in a phases beginning now until 2020. These institutes will have access to all tracks under the Microsoft Imagine Academy that include Data Science Pathway, Computer Science Pathway, Cloud Fundamentals, Mobility & Devices Fundamentals and Security Fundamentals subjects; which will be introduced during the first phase, from February onwards.
Microsoft Imagine Academy (MIA) is an e-learning system and curriculum that helps teach students how to efficiently use a variety of Microsoft products as well as other technology tools most of which are commonly used in businesses throughout the world. Commencing July, the second phase will see technical training delivered through Live Sessions, Online materials and using 3D tools. The third phase in 2019 will see the application of Industry 4.0 through the Smart Factory module which will cover CNC Machining, Smart Machine Control and Online Monitoring & Supervision.
The eight institutes that will implement this curriculum are IKTBN Sepang, IKTBN Dusun Tua, IKTBN Bukit Mertajam, IKTBN Pagoh, IKTBN Temerloh, IKTBN Chembong, IKBN Jitra & IKBN Miri. This partnership is an important step in the direction of promoting TVET (Technical and Vocational Education and Training) education in Malaysia and will see over 10,000 students benefitting from the initiative over the next three years.
K Raman, managing director of Microsoft Malaysia said, "We commend the Ministry of Youth and Sports for taking the initiative in the field of education, preparing our youth for the challenges of Industry 4.0. Our mission at Microsoft is to empower every person and every organisation on the planet to achieve more. We have been faithful to this mission and will continue to promote 21st century learning across all institutions in Malaysia. This is indeed a landmark event for the education sector in Malaysia, as this will be the very first time in the nation's history that vocational training institutions are geared to utilise Microsoft Imagine Academy. This newly incorporated curriculum will empower students to achieve even greater heights than ever before, nurturing them with the skillsets to compete globally."