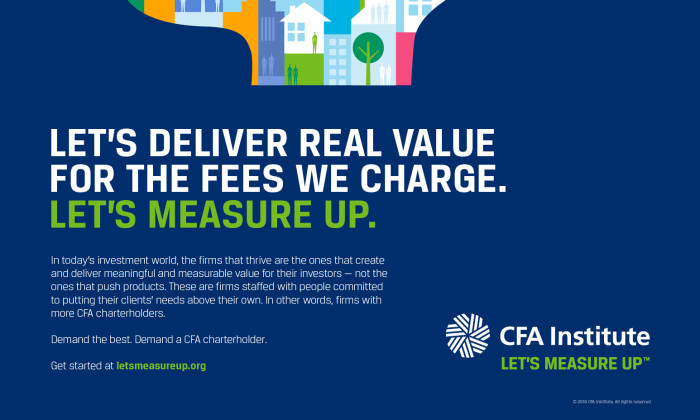 CFA Institute has unveiled a new brand campaign and call-to-arms asking that the investment management industry build a better world for investors.
Introducing the new CFA Institute tagline, "Let's measure up", the campaign is designed to broaden awareness of the CFA charter and to reinforce the important value that CFA charterholders bring to investment industry employers, including asset managers and asset owners, banks and brokerages, as well as corporations and high-net worth individuals.
The platform challenges the industry to uphold the same values exalted by CFA Institute and its 145,000 charterholders, highlighting the themes of ethics, investor rights, diversity, retirement security, transparency, technical expertise, and more.
"The investment management industry is at an inflection point," said Michael Collins, chief marketing officer and managing director, services delivery, CFA Institute.
"Investors, whether they're individuals or institutions, are expecting more from the people who manage their assets. They want to trust that the people they rely on really do live and abide by the highest of standards. They're demanding investment professionals with expertise and ethics."
(Gallery available on web)
CFA Institute will invest more than $100 million over a three-year period, including the launch of a new integrated advertising campaign in mid-January. Creative assets will showcase nearly a dozen custom designs commissioned from award-winning illustrator Paul Wearing.
The campaign media buy will include print, digital, TV, out of home, and social units, as well as a dedicated website, event activations, social media, and public relations support.
Markets include Australia, Brazil, Canada, China, Germany, Hong Kong, India, Mexico, Singapore, UK, and US. Amplification will extend to many of the 148 member societies across the globe in 2018.
The campaign extends a relationship with Ogilvy & Mather, which was selected as the CFA Institute PR agency of record in 2016.