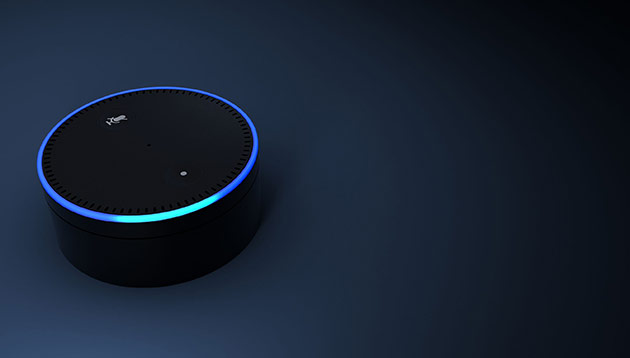 Artificial intelligence has been the talk of the town at the recent Consumer Electronics Show (CES), with conversations surrounding voice assistants in particular stealing the show.
While the technology is not new to companies such as Amazon, Google and Microsoft, which have led the way in this area by launching their own voice assistants, the conversation around this space seems to really be picking up.
As voice assistance grows in importance, one area that is set to be heavily impacted by voice artificial intelligence (AI) seems to be search. According to a recent Accenture study titled "Time to Navigate the Super Myway: Giving Consumers Exactly what They're Looking For", which surveyed 21,000 consumers in 19 countries, 66% of consumers who own digital voice assistants said they use smartphones for fewer applications at home since acquiring the devices.
In particular, more than half (56%) said they use their smartphones less for general information searches. While devices such as Alexa and Google Assistant are not yet items you see in every Asian household, there is an increasing uptake of these devices.
According to a report published by J. Walter Thompson (JWT) Innovation Group London and Mindshare Futures in 2017 titled "Speak Easy: The Future Answers To You", the trend has already hit certain Asia Pacific countries such as Japan, Thailand and China. Thailand was the most active Asia Pacific country (51%) when it came to utilising voice technology on a weekly basis, followed by Japan (34%) and China (31%).
Currently, only 17% of Singaporeans surveyed have fully embraced voice technology on a weekly basis. Speaking to Marketing, Ken Mandel, president innovation and commerce, Asia Pacific, Publicis Media explained that voice search via Internet of Things (IoT) speakers is a critical touchpoint now as these devices are placed in the heart of homes such as kitchens or living rooms. Mandel also believes that platforms such as Google AdWords will be increasingly incorporated into the voice ecosystem, allowing brands to vie for category placements alongside voice search queries such as "Alexa I am hungry" and "Would you like to try Pizza Hut?"
And while there is no definitive answer as to when that will happen, publications such as The Verge, CNBC and Business Insider have reported that Amazon's Alexa will eventually introduce Google-like paid search, a platform that has yet to materialise.
Another area to look out for in the not too distance future, is voice-enabled assistants that will eventually learn to recognise different voices of the members within a household. With the help of AI, ad attribution and predictive capabilities, voice assistants will become smarter and more helpful, offering consumers more contextual advertising.
"Voice gives brands another potential touchpoint so rather than changing strategies, brands need to adapt their current strategies to include this growing but important touchpoint," Mandel said. As voice is different from TV and other forms of digital advertising, Mandel added that it requires a subtlety that likens it to a conversation or suggestions, where the ad prompt must come at the right time in the right context to avoid being too obtrusive.
Mandel's view on ad attribution corroborates with JWT's and Mindshare's "Speak Easy" report, which stated paid recommendations, the affiliate model and algorithm optimisation as three possibilities for brands to ensure they come up as the top search. The report also advised brands to review if their search activity is optimised for voice.
According to James Lewin, APAC head of innovation for Mindshare APAC and Nike lead for Southeast Asia, structure and design for voice search is important. For successful completion of a task, consumers will initially be required to state both the product and brand when querying via the voice assistant. But as the system matures, machine learning will take over and algorithms will learn to predict consumer preferences and purchase habits. Thereby, it will recommend the preferred brand whenever consumers ask for a product in future.
But to state an exact name of a product when in need of a purchase is not a natural consumer behaviour, agreed Lewin. As such, consumers will go through a similar learning curve like they did for online search.
Lewin explained that the pathway for search always starts with the need, and therefore the product before the brand. For example, consumers are highly likely to conduct an online search with the keyword "toothpaste" before thinking of the brand name. Likewise for voice assistants, consumers might initially only ask for toothpaste. When they do not get the brand they want or need, they will then learn to state the brand. This brings about a new challenge for marketers who are trying to get consumers to change their buying habits and switch to another brand.
"If Colgate wants to acquire Sensodyne's consumer base, for example, it will need to circumvent machine learning and automotive assumption that Alexa (or whichever voice assistant is at play) is making for their toothpaste preferences," Lewin said.
One step towards gaining more market share would be for brands to ensure they have adequate representation on the major e-commerce sites. As shopping online becomes the norm, more consumers are going to assume that e-commerce sites will have all the same products and brands that they are used to seeing at physical stores.
"Hence, if the brands are not present online, this might cause consumers to switch to their competitors because the preferences of purchase may override brand loyalty," Lewin added.
Also, having a wide presence in e-commerce stores will not only boost the chances of brands becoming the most requested in a given category, but also the potential to become the default brand suggested by voice assistants. This can eventually ensure that traditional brands are not going to be quickly replaced by home brands such as AmazonBasics.
"The longer you leave Alexa to make the decision on the consumer's behalf, the more opportunity for Amazon to push products which net a higher margin. Hence, opening the potential for AmazonBasics to steal share from traditional brands," Lewin added.
Lewin also explained that over time, as use of voice assistants mature and consumers have understood the basic process behind asking for both the product and brand, companies will need to strategise to integrate sales promotions with voice assistants. If consumers ask for their regular toothpaste brand, instead of bringing up their usual order, Alexa might suggest Sensodyne, for example, because it is having a sales promotion.
"Left on their own, the reductive and pattern-recognising nature of Machine Learning algorithms would assume that consumers want the same product and brand forever. As marketers, we need to ensure mechanics and opportunities exist to challenge those assumptions and create competition within a category," Lewin said.
Meanwhile, Ranga Somanathan, CEO of Omnicom Media Group of Singapore and Malaysia, said that rather than being concerned about how to be included among the top voice searches, brands should consider ways to build appeal and relevance in these conversations. According to Somanathan, there will be a renewed focus on driving collective awareness for the brand using mass media, in a bid to create spontaneous queries with the brand embedded in the voice request.
"It is imperative that brands deliver a meaningful user experience. Relevance is critical here," Somanathan said. Brands need to have the mindset of assisting their consumers with the technology rather than intruding. As such, marketing strategies have to be anchored in the value being provided, he added.
Somanathan also said that voice integration should not be looked at in isolation of the holistic user experience. With enhanced AI and voice integration, consumers will expect a stronger service delivery and brands will have to offer a consistent experience throughout the user journey.
However, relying on voice alone should not be a strategy for brands. "Voice search is an interaction triggered by the consumer, so a brand needs to have multiple ways to respond back, thereby creating a multiplier effect", Somanathan said. Moreover, brands must pair the message with the medium.
Also weighing in on the topic is Ng Kok Jong, head of digital, Wavemaker, who said that marketers need to think about the transformation brought on by the rise of voice-activated intelligent assistants. "There is no 'one-size-fits-all' and brands have to think about the overall customer experience," Ng said. Additionally, brands should also consider how AI and voice integration will handle unanswered questions.
(Read the full article in the Jan-Feb 2018 issue of Marketing magazine Singapore)