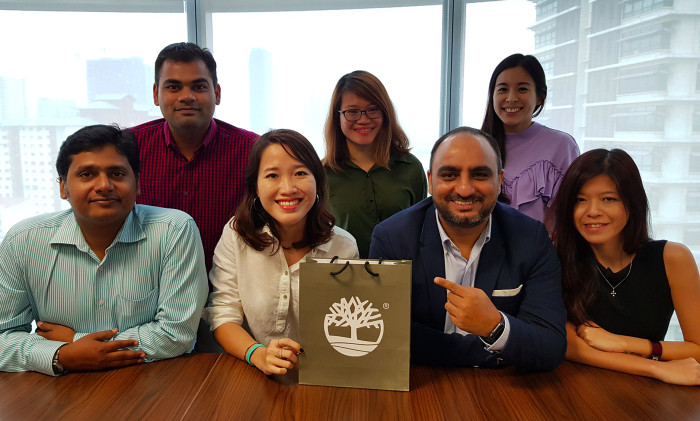 Timberland has appointed full-suite digital marketing agency AdParlor Asia Pacific, as its social media agency for Malaysia and Singapore. The agency was appointed without a pitch.
AdParlor's Malaysia team will develop and execute the social strategy, creative content and community management, for both markets. The contract will run for a period of one year, according to the statement.
The news follows the expansion of AdParlor Malaysia's senior leadership team in August last year, which saw former general manager and head of strategy at Mindshare Malaysia Dheeraj Raina (pictured third from right), joining the agency as managing director, Malaysia. Joining Raina were Faraz Khan and Shyam Ravishankar (pictured first from left) as account directors, and Eileen Khor (pictured fifth from right) as head of creative services. Since then, spokesperson of AdParlor's Malaysia said, the agency has further strengthened its in-house social media and creative team.
AdParlor in Malaysia is expected to be one of the first in the region to introduce an in-house creative services team, led by Khor, who joined the company from Loki Media.
Karen Ong, marketing manager at Timberland Malaysia said it has "great plans at Timberland for 2018". She added, this year the brand wants to go "deeper" with its consumers by having an always-on narrative. It also wants to bring consumers to the center of its marketing innovation as well as, dialing up its e-commerce initiatives.
"We were in need of an agency which looks at digital marketing differently and we are glad that we have found a great partner in AdParlor which shares our passion of building meaningful consumer connections," Ong said.
Matt Sutton, CEO of AdParlor Asia Pacific said, "Timberland has a rich heritage and brand story. Whether physically in the outdoors or digitally on mobile, they have always been about innovating and exploring new frontiers. Social is both a great way to tell their story and enable consumers to be part of it, and I look forward to working with the team to engage and build the buzziest brand on social."
"We intend to build meaningful consumer connections for the brand and harness the power of social to deliver compelling brand stories. You will find us all in iconic yellow boots from now on," Raina added.
As a partner of leading digital platforms including Facebook, Google, YouTube, Snapchat and Twitter, AdParlor Asia Pacific's team of 130 digital experts also help brands to manage, scale and optimise digital campaigns.
Read also:
AdParlor APAC expands leadership team in Malaysia with 4 new hires
Case study: AdParlor Asia and Airtel capitalise on the moments that matter
Mindshare Malaysia GM Dheeraj Raina heads to AdParlor