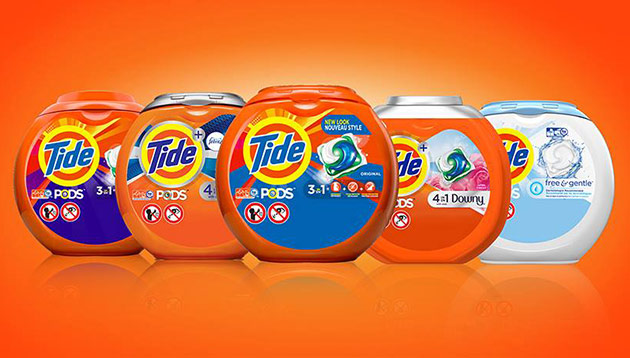 P&G's Tide, a laundry detergent brand and manufacturer of Tide Pods, has released a public service announcement on social media warning consumers not to eat or drink its detergent pods as part of the "Tide Pod challenge". Yes, consumers are actually ingesting their products.
To further drive home the message, it also roped in American footballer Rob Gronkowski to hammer home the message. In a Twitter post, which has garnered over 110k likes, 53k retweets and 4.7k replies at the time of writing, the company said eating Tide Pods was a bad idea and that they should only be used for laundry and nothing else.
What should Tide PODs be used for? DOING LAUNDRY. Nothing else.

Eating a Tide POD is a BAD IDEA, and we asked our friend @robgronkowski to help explain. pic.twitter.com/0JnFdhnsWZ

— Tide (@tide) January 12, 2018
In case you were wondering why such a bizarre PSA was being made,  it is because the laundry detergent brand unwillingly came into fame due to an Internet phenomena surrounding its brightly-coloured liquid laundry detergent packets known as Tide Pods. The product had been gaining traction online in the US, inspiring Internet memes and teenagers in the country to eat Tide Pods for bragging rights.
This resulted in 40 teenagers being poisoned. According to an article on Channel NewsAsia, the teenagers were said to have cooked Tide Pods in frying pans or biting into them before spitting soap from their mouths.
Since then, the US Consumer Product Safety Commission also urged consumers not to jump in on the hype, tweeting, "A meme should not become a family tragedy. Don't eat poison." 
Please don't eat laundry pods. Learn more ways to #preventpoison https://t.co/jjJGA8N1H4 pic.twitter.com/WxJFmeO3Y7 — US Consumer Product Safety Commission (@USCPSC) January 13, 2018
Meanwhile, a Canadian e-commerce company dbrand decided to seize the opportunity to market itself by tweeting "Don't eat Tide Pods. Eat dbrand."
Don't eat Tide Pods. Eat dbrand. pic.twitter.com/typPbfVzj2

— dbrand (@dbrand) January 16, 2018
The idea of eating Tide Pods originated from the satire website The Onion in 2015, when it published a column written in the perspective of a child who wanted to eat a blue and red detergent pod, USA Today reported.
@tide sitting down to a plate of your special edition tide pods tonight pic.twitter.com/ov7cSW0UB8

— fraser (@caradelevigene) January 13, 2018
I'm on a cleanse #newyearnewme #tidepods #HealthyLiving pic.twitter.com/KwT4t8N9bv

— butterscotch queen (@AshleyPoitevien) January 8, 2018
The perfect meal. Retweet if you would eat this. #tidepods #tidepod pic.twitter.com/OpsPJkF6eV — Tide Pod memes (@Tidepodmemes) January 6, 2018
Some Twitter users mocked those who ate Tide Pods, saying that it was part of natural selection, while some tweeted they would not be told what to do.
Dont worry about People who eat tide pods it's natural selection — Joseph Urban (@hondadeal4vets) January 16, 2018
all i gotta say is we weren't eating tide pods while obama was president

— Jonathan (@LowkeyNerdy) January 16, 2018
Please eat the tide pods. If you seriously think eating tide pods is funny or a good idea I really want you to do it. Please clense this earth of your vacuous mind, your utterly meaningless existence. Give the space and air that you're taking up to people who truly deserve it

— JoJo (@BizarreTOH) January 17, 2018
People who actually eat Tide Pods: pic.twitter.com/125Xq9OLVq

— Lucas Toole (@Lucas_Toole) January 14, 2018

YOU'RE NOT THE BOSS OF ME!!!

— Donna J. Pecker-Grabber (@Pecker_Grabber) January 13, 2018
What do you make of this new Internet meme? I for one am shaking my head and wondering what has become of the human race.