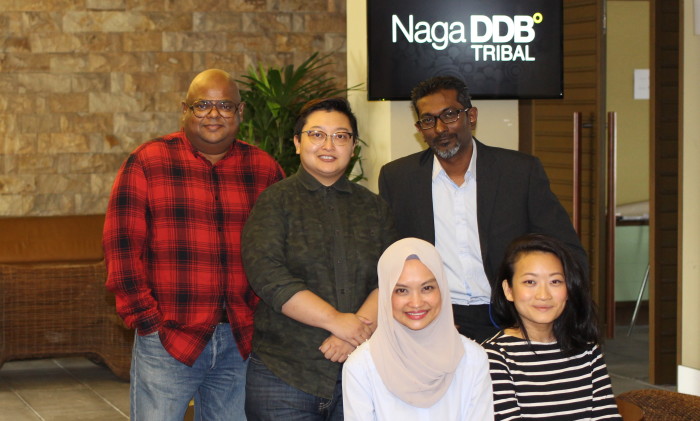 Naga DDB Tribal has made a slew of 20 new hires in an effort to further expand the agency and to support several new business wins over the final quarter of 2017, said CEO Kristian Lee in a statement to A+M. 
Some of the new hires include Yan Ghazaly as associate creative director (ACD) who is formerly M&C Saatchi's ACD, Cheah Chiann Yi as senior planner who is formerly O&M Malaysia's senior strategic planner; as well as three former long standing members of creative agency The Wizards' Room namely Sherina Noordin and Jay Murali as business director, and, industry veteran Christie Herman as senior writer. These new hires will grow the agency to a 200 member team. Naga DDB Tribal also added on 17 digital specialists to the agency last year.
Meanwhile less than a month ago, the agency promoted general manager Clarence Koh to chief operating officer (COO) to execute growth strategies. Koh said digital transformation will be on the top of the agency's priority list this year. Beyond bringing in new talent and internal upskilling, he said the agency is in the midst of digitising its processes and facilities. For example, Naga DDB Tribal recently adopted a new HR app to simplify leave application and staff claims. "Our next move will be to streamline the agency workflow from task delegation down to productivity reports, via a seamless digital platform," he added.
Naga DDB Tribal's CEO Lee, said, "The expansion of our team is a direct result of continued organic business growth within our stable of existing clients such as Astro and Tiger Beer; as well as a few new business wins over the final quarter of 2017." While Lee wasn't able to share more on the new business wins at the time of writing, A+M understands that it has recently produced work for AirAsia and Wonda Coffee over the last year.
"It is one of our main on-going agency objectives to grow capabilities, skillsets and portfolio of clients. Hence, the need to continue to bring on-board individuals that can help us realise that ambition. Our clients needs are increasing and diversifying therefore we need to equip ourselves with the necessary resources to meet their requirements," Lee said.
He added, uncovering insights with the use of data and digital tools as well as, building marketing solutions for clients beyond traditional communication channels will be key success indicators for the agency in 2018.
"In line with that ambition, we are glad to be able to attract talents like Yan and Chiann Yi to drive that objective with us. In order to sustain growth we have to be strategic and selective in whichever areas we choose to invest in. Good business management and prioritising are key elements that will help achieve our targets," Lee said.
Read also:
AirAsia takes the road less travelled with its new ad spot
Naga DDB hands GM Clarence Koh COO role
Naga DDB Tribal and C27 get "Curious" about creating data-centric platforms
Naga DDB names Kevin Teh its head of brand management
Naga DDB hands Kristian Lee CEO title
Naga DDB gets new head of planning and deputy ECD