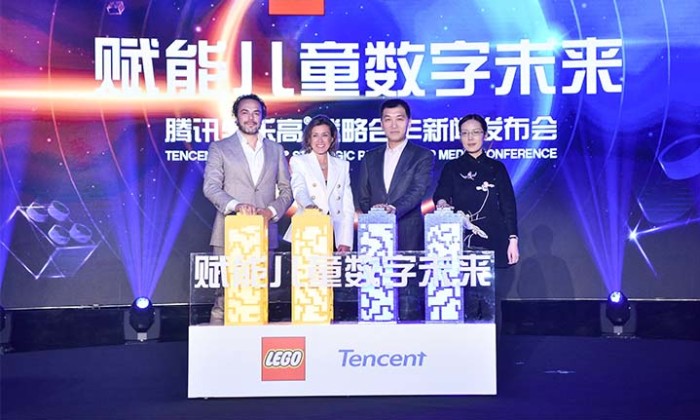 LEGO Group (LEGO) has tied up with Chinese internet giant Tencent to create branded video games, as well as a new social network targeted at children in the Chinese market.
In a statement, LEGO's spokesperson said, both companies will "collaborate across a broad range of digital content and digital platforms". The scope of the partnership includes the development of a LEGO video zone for children on the Tencent video platform, development, publication and operation of LEGO-branded licensed games.
It also includes the publication and operation of the online operation system for LEGO BOOST - a building and coding set that lets children bring their LEGO creations to life - and the exploration to co-develop LEGO Life, a safe social network for children, in China.
LEGO's latest move signifies a step further for LEGO in tapping the Chinese market. Back in September last year, LEGO's group chairman Jørgen Vig Knudstorp, revealed the company sees "strong growth opportunities in growing markets such as China" while announcing its disappointing results for the first half of 2017. It reported the first sales drop in more than a decade, with revenue falling 5% to DKK$14.9 billion (US$2.38 billion) year-on-year.
LEGO pointed out earlier that despite the revenue decline in its established markets such as the US and in parts of Europe, revenue of its growing markets such as China has grown by double digits.
But of course, the Danish toymaker will still face competition in China from rivals such as Mattel, the maker of the famous Barbie dolls. Mattel also partnered with one of Tencent's biggest competitors Alibaba to sell its products in China via its marketplace website Tmall.com.
This partnership is also aimed at creating a safe online eco-system covering platforms, contents and experiences tailored for Chinese children. It will be designed to comply with the LEGO Group Digital Child Safety Policy, developed with input from UNICEF, among others.
LEGO, which has been struggling lately was forced to cut about 1,400 jobs last year, as part of its global restructuring movement. This also saw the company reshuffling senior executives around the region, as well as, two of its senior marketers exiting the APAC office in Singapore. Rafael Scislowski, LEGO Group's senior director of Asia Pacific (APAC) regional marketing resigned from the role. He has now joined Uber as its marketing director of Southeast Asia, effective December 2017. Meanwhile, Vera Ivanova, LEGO Group's marketing director of SEA, has also left the company.
Euromonitor International published earlier in June 2017, said that China is expected to lead the region's toy growth. It added that Asia Pacific has already overtook Western Europe in 2014 to become the second largest region for traditional toys and games sales globally. This was spurred on largely by China, which experiences a rapid growth in traditional toy purchases with rising incomes among parents.
Read also:
LEGO APAC marketing team sees senior departures
LEGO to axe 1400 jobs, moves SG-based CCO Loren Shuster to London
LEGO entangled in sale of counterfeit toy sets in Singapore
LEGO appoints IPG Mediabrands' Initiative for global media duties
LEGOLAND Malaysia picks VML for digital marketing duties
Consumers in APAC find LEGO to be the most gender neutral toy for children