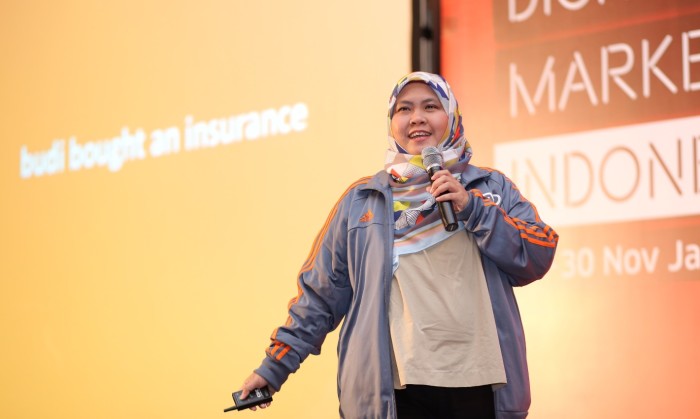 In today's world where consumers are bombarded with messages from brands, consistency is key to standing out, said Maika Randini (pictured), CMO of FWD Life Indonesia, during a Digital Marketing Indonesia conference held on 29-30 November 2017. Randini explained that having that one big umbrella campaign and message allows a myriad of products and services to be marketed while having an alignment to the overall brand message.
"Have that one big message for at least the whole year, and execute your tactical campaigns alongside it across the year. That way, you can ensure consistency," she said. Randini added that consistency is also the key to integrated marketing, along with a commitment to a brand's key message. It is not about saying many things all at once.
"After you [craft out] the one big message, think about your customers and how to construct the customer journey. This together with consistency will help ensure your success," Randini said.
Marketing or branding will not work if you don't do it consistently. You also need to be in your customer's face constantly.
She added that while it might be tempting to flex your creative muscles when it comes to social executions such as hashtags, committing to one message might have a bigger impact.
Managing budgets and setting KPIs
For marketers, another crucial step in integrated marketing would be setting the right objectives for the campaigns. When it comes to constructing marketing plans, marketing teams need to think about how the creative work can go viral to impact the overall business' bottom line. She said,
Marketers love brand messages, creativity and viral campaigns, but that won't do anything for you if it does not help the business.
As such, campaigns shouldn't just be about solely bringing the brand awareness, but also having business impact as well. To do so, marketers need to consider how much money they hope to draw in to the company, and how much weight they wish to be able to hold when it comes to future decision making.
"While it is easy to jump on the next big marketing tool just to generate buzz, you need to hold back and evaluate whether it is something which will work for your brand campaign's key message," Randini said.
When it comes to managing the marketing budget, she explained that marketers should think about what they would like to achieve. Marketers should also not "place their entire budget in one media and call it a day", but rather, they should always spread it around.
For FWD Indonesia, brand awareness is still a key step and focus in its marketing. This is closely followed by lead generation.
During one of its marketing and branding campaigns in October last year,  #BebaskanDirimu,  FWD Indonesia looked to showcase its "Lifetime of opportunity" mission statement. Throughout the campaign, the insurance brand ensured its key visuals were consistent across both traditional and digital assets utilised in the campaign. It did not focus on one marketing medium alone as the segment it was targeting were those aged 25 to 35 years old, which Randini explained was still quite a "wide" segment.
The company placed its ads across mediums such as cinemas and on OOH mediums. On the digital front, FWD placed bits and pieces of its TVC on Facebook in the carousel format to generate buzz. It also ensured its TVC was seen on YouTube as a bumper ad and in formats which made references to the TVC, as part of its amplification strategy.
When it comes to ensuring the customer journey is complete, marketers also need to consider what their customers are viewing from the brand both before and after campaign launch. As such, putting out the most relevant content and having the right amplification strategy is crucial.
"Think about the content and determine where social stands in the big picture for the marketing campaign," Randini added.