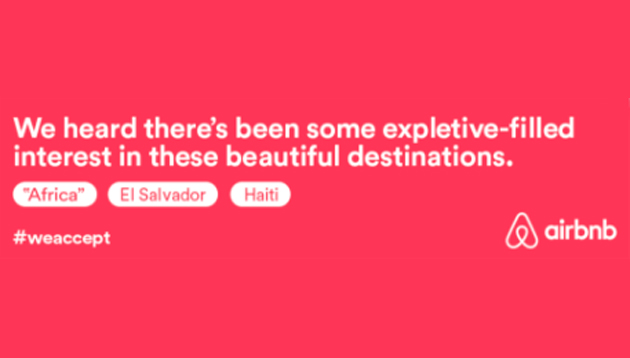 Airbnb has dedicated at least US$100,000 in digital ad placements to promote listings in places such as Haiti, El Salvador and African countries. The move followed recent claims and allegations that US president Donald Trump had termed these locations as "shithole countries" which emerged during a recent meeting discussing the Deferred Action for Childhood Arrivals (DACA) program and immigration.
However, Trump has since posted several tweets denying that he made the derogatory remarks.
Nonetheless, in a statement to Marketing, an Airbnb spokesperson confirmed the launch of "a six-figure digital ad buy" promoting listings in Central America and Africa. This is along with an ad running on news websites such as the Washington Post and CNN. Here is an image of the ad:

Following the move, Airbnb founder and CEO Brian Chesky has also promoted several Airbnb listings located in the countries affected by the comment via his social media. On several Twitter posts, Chesky pointed out the appeal of Africa, El Salvador and Haiti to international travellers, highlighting the growth of revenue in these countries. He also promoted several Airbnb listings in Ghana, Kenya and Haiti right after.
2.7M guests from Airbnb decided that countries in Africa, El Salvador, and Haiti were beautiful enough to visit. When we embrace the world, we see its beauty.

— Brian Chesky (@bchesky) January 12, 2018
(Gallery available on web)
The Airbnb spokesperson explained that Haiti, El Salvador, and Africa are home to more than 116,000 Airbnb listings, earning a total of US$170 million in 2017 alone by hosts sharing their homes with guests. As such, hosts in these countries and the continent have benefited by welcoming travellers from abroad. The spokesperson added:
We want to empower the Airbnb hosts who call these communities home and encourage more travellers to visit these special and beautiful places.
He added that the company believes in an open society and the power of connecting people from different communities and cultures.
Airbnb is not a stranger to voicing its support when it comes to immigration and travel. Amid word of Trump's travel ban in January last year, the accommodations platform pledged to provide free housing to refugees and anyone recently barred from entering the US. This came as Chesky pledged its support for immigrants and refugees affected.
In addition, Airbnb also ran an ad during last year's Super Bowl to highlight its belief in the simple idea that "no matter who you are, where you're from, who you love, or who you worship, you deserve to belong".
"We have opposed discriminatory policies that would limit travel and have urged Congress to protect Dreamers. Going forward, we will continue to advocate for policies that open the world and bring us all together," the Airbnb spokesperson said.
This is not the first time Airbnb has dished out marketing dollars to promote a specific region in the world. In November 2017, the company revealed that it would invest US$2 million through 2020 to support and promote innovative and inclusive tourism projects throughout Asia Pacific. The funds will be made available to organisations including destination marketing organisations, non-profit agencies, NGOs and community social groups, that require financial support for innovative tourism projects. The move came after Airbnb outlined several of its Asia plans.
Read also:
Airbnb, Google and Lyft among brands taking a stand following Trump immigration ban
Airbnb names global creative partner, outlines Asia plans
Airbnb brings 'Experiences' to three new APAC markets
Airbnb vs the hotel industry: Can the disrupted become the disrupter?
Airbnb to help lure tourists for PyeongChang 2018 Winter Olympic Games
What brands should do when unwillingly dragged into a political conversation