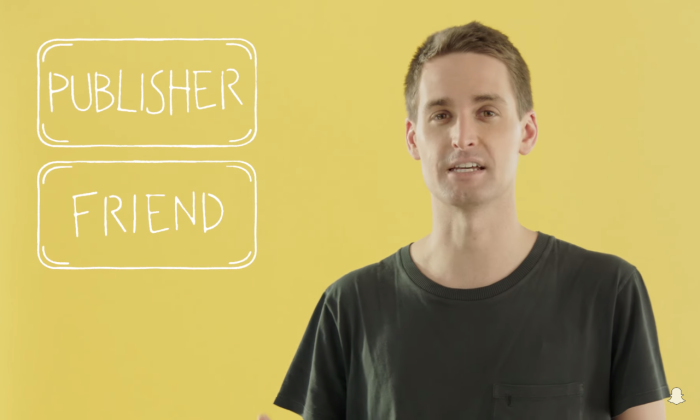 Snapchat has copped backlash from its users following a major overhaul to its user interface, affecting users in Australia, UK and Canada. Plans for the new layout first emerged last year, with the intention to separate the social from the media. It also follows one year after the launch of Instagram Stories and slowing Snapchat user growth.
This was revealed in a blog post with Snapchat founder Evan Spiegel walking through consumers on the new update with a video. The new design saw users finding all messages and stories from friends to the left of the camera, sorted by who they talk to and view most.
Right of the camera was all the premium publishers and influencers that users follow, and aggregated stories from search and snap map in the discover section, sorted by users' past viewing behaviour. Under new algorithms, content was also aligned based on the users' interests, not on the interests of "friends".
Marketing has reached out to Snapchat for comment.
This however, was not well received by Snapchat users, who called the new update "confusing" and "inconvenient". Many users also called for a reversion to the old layout.
sorry @Snapchat but kinda disappointed in this new update. it was meant to make things easier & more organised and honestly right now it's making it more of a chore to use, so until things change again this definitely wont be my favourite social media app anymore #snapchat

— C (@CXGXRX) January 9, 2018
@Snapchat what is this??????? Who ever came up with this layout should be fired. PLEASE reset it!! #snapchatupdate #snapchat pic.twitter.com/oqr0pr3Pxi — Ashlyn Saba (@AshlynSaba) January 11, 2018
PETITION FOR SNAPCHAT TO CHANGE BACK TO THE OLD LAYOUT, THIS NEW UPDATE IS SO INCONVENIENT

— Kirra (@aussie_ariel) January 12, 2018
Since the backlash, Snapchat's Twitter support account has been dealing with user queries and requests to go back to the original layout. In a statement to BBC, a spokesperson for Snapchat said that major updates such as this one took "a little getting used to", but hoped that the community would enjoy it "once they settle in".
In a conversation with Marketing, Justin Peyton, chief strategy officer, APAC, DigitasLBi, said that Snapchat has always had challenges with its user experience and people complaining that it is hard to use. Moreover, in the past, the experience has likely been a deterrent to some people joining, especially older demographics.
"Now with their business performance and share price at roughly 50% of the IPO the redesign was likely intended to increase solve some of these challenges, but the irony is that its loyalists always loved the fact that it was different," Peyton said, adding:
Snapchat now faces the challenge of trying to please multiple audiences if it is going to successfully grow the service and user base.
Will users really get used to the changes?
Using past examples such as Facebook, Peyton explained that audiences are likely to quickly forgive changes to the user experience if there are any perceived rewards at the end of the day.
"After all, even the most controversial changes to the Facebook's experience and privacy rules were ultimately forgiven and forgotten. Let's see if Snapchat has provided enough reward to be forgiven," Peyton said.
Also speaking to Marketing was Kim Chew, business director, Society, who views the move as a positive one for publishers due to the wider accessibility of branded content spaces. For content creators, the move is a beneficial one as well because of the increased opportunity to have their content seen.
"But, the challenge is to capture the attention of users, amidst many other content providers in the same space, and handle the user's adjustment to this major change," Chew explained.
That being said, based on user feedback, it is likely more adjustments are coming up for Snapchat, which is designed for user experience, Chew added.
The backlash toward the newly separated platform follows a trend towards social media platform players looking to place priority on personal social interactions between users.
Just last week, Facebook CEO Mark Zuckerberg revealed an overhaul to Facebook's News Feed following feedback from its community that public content, including posts from businesses, brands and media, had been "crowding out the personal moments that lead us to connect more with each other". This will eventually result in less public content such as posts from businesses, brands, and media will be see, and the public content users see will be held to the same standard to encourage meaningful interactions.
Facebook also recently mulled the splitting of News Feeds just like what Snapchat had done, rolling out tests in six countries which saw all Page content being moved to the Explore Tab. This was tested in selected countries globally.
Read also:
Snap cuts 18 in recruitment unit after dozen layoffs in hardware marketing team
[Infographic] Latest figures on Instagram stories Vs. Snapchat stories
Where are the influencers: Instagram Stories or Snapchat Stories? [Infographic]
Snapchat's parent company Snap Inc files for US$3 billion IPO
Did Instagram just admit to copying Snapchat?